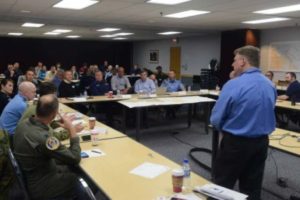 In preparation for Crystal Cruises' historic Northwest Passage cruise, the U.S. Coast Guard, Transport Canada, Canadian Coast Guard, Canadian armed forces, Crystal, North Slope Borough, State of Alaska Division of Health Services and Emergency Management and Air Force Alaskan Command conducted an Arctic mass rescue operation tabletop exercise.
The April 13-14 Northwest Passage Tabletop Exercise provided the opportunity to test and evaluate interagency cooperation and focus on the response to a cruise ship experiencing progressive flooding in a remote Arctic region in the vicinity of the U.S./Canadian border.
"This exercise was the culmination of a cooperative industry/agency effort that began over two years ago, when we first began considering a Northwest Passage," said Greg MacGarva, vice president of marine operations at Crystal Cruises.
"Crystal Cruises is extremely grateful for the support and guidance received from everyone involved in developing our Emergency Response Plan, and especially to the Coast Guard for hosting and facilitating this most valuable exercise."
The Arctic presents the challenge of a dynamic, hostile environment, long distances, limited resources and a lack of infrastructure.
"Success in the Arctic requires a united effort between many agencies," sat Lt. Cmdr. Jason Boyle of the Coast Guard 17th District prevention division. "This tabletop exercise allowed an open discussion of how to cohesively respond in the event of a mass rescue operation in the Arctic."
This exercise is the latest in a long list of preparatory initiatives taken during the last five years, including Arctic Shield operations and the Arctic Chinook field exercise planned for August.
"Joint exercises provide us with opportunities to test plans without risk and identify areas where improvements can be made so that all search-and-rescue agencies, partners and volunteers are better prepared to respond to unplanned events," said Peter Garapick, the search and rescue superintendent for the Canadian Coast Guard, Central and Arctic Region.