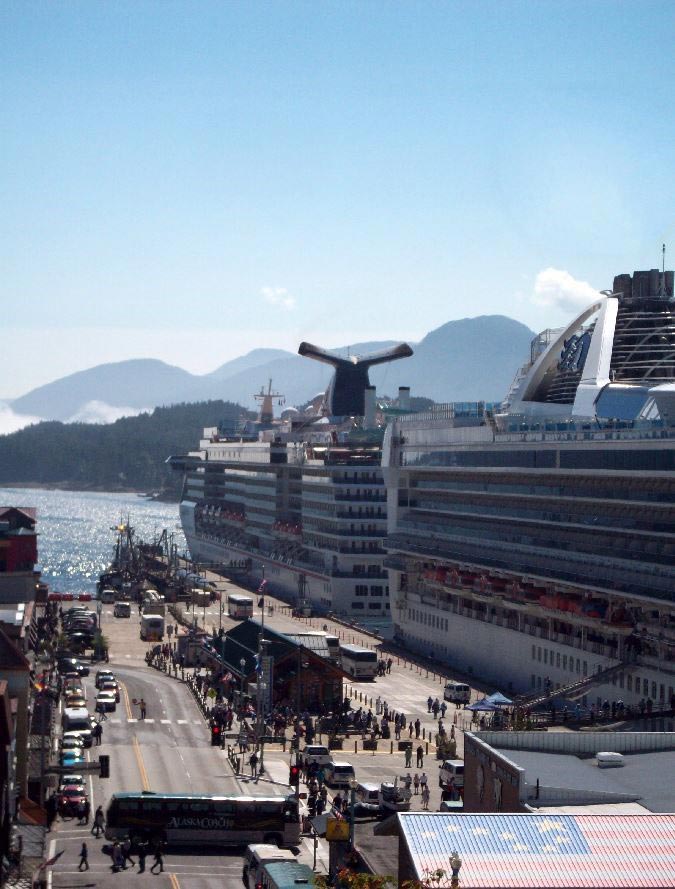 Ketchikan broke a record May 19.
With this new accomplishment, it sets up the opportunity to break it again and do even better.
The First City welcomed more cruise ship passengers in a single day than it had previously.
Seven cruise ships — six of great size — conveyed a potential 13,226 passengers into the community, starting about 6 a.m. They kept coming until 2 p.m., and the last ship was scheduled to leave at 8 p.m.
Since the City of Ketchikan expanded its port to accommodate four large cruise ships, it hasn't seen ships anchored out as frequently. But both May 18, when Ketchikan had the potential for a nearly equal record number of passengers to arrive — 12,964, not a usual number by any means — and May 19, there wasn't enough space to dock. Lightering remained a possibility, however.
The community is benefitting from the industry's building of bigger ships, of course. It's also seeing the results of effective marketing. Plus, a ride through the Island Passage is a trip of a lifetime.
Nor should it be forgotten that pricing and specials tend to fill the ships at a time when American passengers are seeking vacations affordable and convenient for whole families, and that extends to all of the foreigners who come in on the ships, too. It's the day for looking for a deal.
Ketchikan has evolved with the cruise industry since the first ship called in 1973. At the start, few traditional tourist shops existed; tours were nonexistent by comparison to what is found now. The downtown played more to locals than it did to visitors.
That's changed. Ketchikan, particularly downtown, comes alive once the ships start arriving in early May. The activity affects much of the town, with increased traffic from one end of Tongass Highway to the other. Even after the ships depart for the day, the town is home to seasonal workers here to help the tourists enjoy Ketchikan.
It's taken decades to grow the cruise industry into what it has become — an economic engine critically important to Ketchikan's well-being. Before this season is complete in September, the community is expected to set another new record with the arrival of its 1 millionth passenger.
It's a big season for the community. How it pays off at the cash registers and for sales tax receipts won't be clear until the end. But, certainly, it holds hope and promise, and the industry has become integral in allowing Ketchikan to live its quality of life year-round.
Cheers to the cruise industry.
Source: Ketchikan Daily News editorial