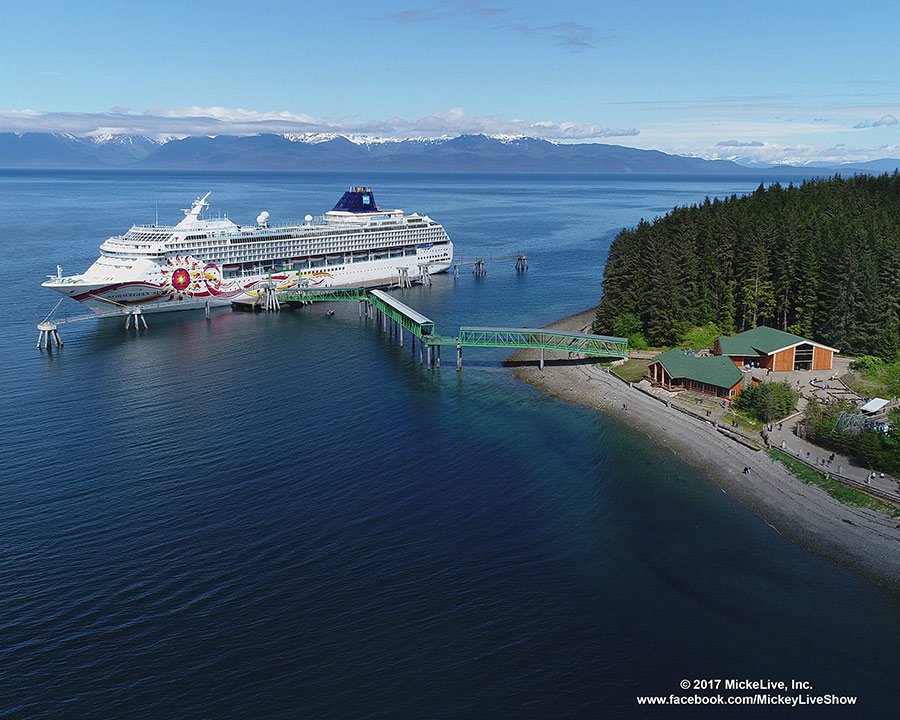 By Sam Dapcevich
During the Little Ice Age, Tlingits living in Glacier Bay were displaced from their village by a rapid glacial advance. Before the ice reached its peak around 1750, the villagers migrated to the northeastern shore of Port Frederick on Chichagof Island, about 35 miles west of what is now Juneau.
They called their new village Xuniyaa, or "Lee of the North Wind." More than a century later, in 1901, the town's first postmaster transcribed Xuniyaa into "Hoonah."
The Tlingits who settled in Hoonah were conceivably the first Alaska Natives to have contact with Russian explorers in 1741, as their seasonal camps stretched from Lituya Bay to Lynn Canal. But non-Natives didn't settle in Hoonah until nearly a century later, when Christian missionaries arrived shortly after the explorer and conservationist John Muir visited in 1879 and 1880.
Today, the town has just under 800 residents and was 66 percent Alaska Native at the most recent census, compared to 19 percent statewide, making it Southeast Alaska's largest Tlingit community. Residents prefer the spelling "Huna," both for the village corporation and the town itself.
First cruise ship arrived in 2004
By the time John Muir arrived in 1879, icy Glacier Bay had opened back up. The glacial advance that displaced villagers and which Captain Vancouver's 1794 expedition witnessed as a wall of ice had retreated an astonishing 46 miles.
In 1883, the Pacific Coast Steamship Company's ship Idaho brought the first batch of adventure-tourists to Glacier Bay, but for Hoonah, tourism didn't take root. For the next 120 years, most ships bound for Glacier Bay paid no attention to the fishing and timber town across Icy Strait.
In 1996, Huna Totem, Hoonah's village corporation, bought the Icy Strait cannery and began construction of the Icy Strait Point tourism facility on the site in 2001. Large-scale cruise ships began to visit the community a few summers later, with the 866-foot Celebrity Cruise Lines ship Mercury, carrying 1,800 tourists, being the first to arrive in May 2004.
Hoonah didn't get a cruise ship dock until 2016, making it the most recent Southeast cruise port to build one. Initially, cruise ships anchored or moored to a buoy near Icy Strait Point, which required ships to use lightering boats to transport passengers to shore and limited the number who would disembark.
Construction on the 400-foot dock began in early 2015, with more than half the $23.7 million price tag funded by a state development grant and the rest by Huna Totem. The dock became operational in May 2016, drawing more ships and increasing by 15 to 20 percent the passengers likely to disembark.
Although Hoonah's cruise ship passenger numbers were up and down between 2004 and 2012, they've increased steadily since. An adventure center and restaurant were completed in 2016 in addition to the new dock, and 77 ships arrived that summer bringing 145,344 passengers, with even more expected in 2017. This year, Disney Cruise Lines will visit Icy Strait Point for the first time, as will Seabourn and Carnival Cruise Lines.
Tlingit culture and the local Native corporation have been strong contributors to tourism's recent growth in Hoonah. Nine of the 15 businesses associated with Icy Strait Point are owned by locals. According to Huna Totem, 87 percent of Icy Strait Point's employees were local in 2016, and 83 percent were Alaska Native.
Source: Alaska Economic Trends