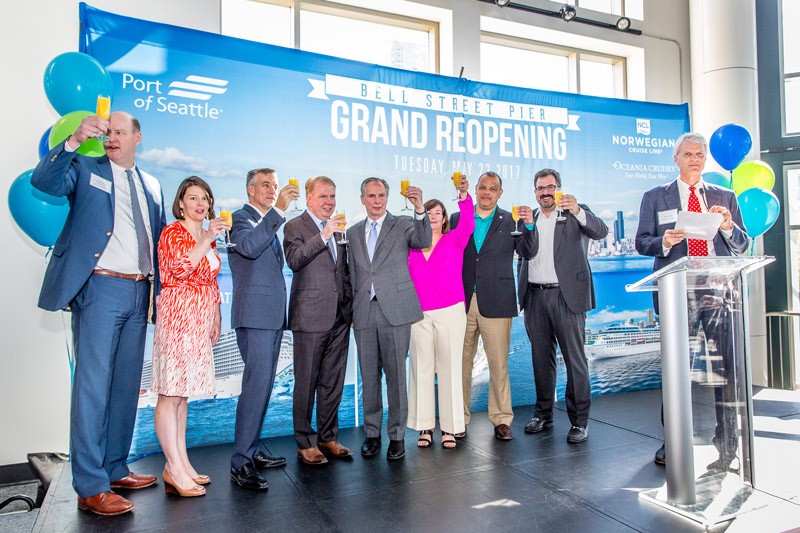 The Port of Seattle has renovated its Pier 66 to handle the 4,000-passenger Norwegian Bliss, which will be the largest cruise vessel on the West Coast when it arrives for the 2018 cruise season.
An estimated $30 million in improvements were made to the Bell Street Cruise Terminal as part of a joint agreement between Norwegian Cruise Line and the Port of Seattle.
In August 2015, the Port of Seattle signed a historic 15-year lease with Norwegian Cruise Line Holdings, parent company of Norwegian Cruise Line, Oceania Cruises and Regent Seven Seas Cruises. The deal secures berth space for Norwegian ships in Seattle for the full term of the lease and provides passenger volume guarantees estimated to bring $73 million dollars of revenue to the port. Under the new lease, Norwegian will manage the cruise operations at Pier 66 and will have priority rights to the cruise vessel berth during the cruise season. The port will operate the facilities outside the cruise season.
"We have a long history with Norwegian from when we first started in the Alaska cruise market over 15 years ago, and we are thrilled with their unprecedented investment today," said Port of Seattle Commissioner Stephanie Bowman.
"We couldn't be more pleased to have had the opportunity to work with our partners at the Port of Seattle to enhance the guest experience at the Bell Street Cruise Terminal," said Howard Sherman, executive vice president of Onboard Revenue and Destination Development for Norwegian. "Together, we have increased usage capacity by more than 300 percent, created a plush new lounge for suite guests, enlarged the space for all guests awaiting embarkation, allowing for the vacation experience to begin as soon as our guests step foot inside the terminal by providing a seamless, comfortable and stylish ship-to-shore experience."