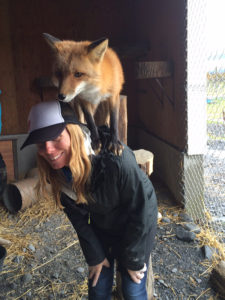 Tell us a little bit about yourself:
I am a lifelong Alaskan since 1973. My father was in the military, and we were stationed at Elemendorf Air Force Base. My dad loved Alaska and always chose to stay in Alaska, so unlike most military families, we were grounded here. He instilled that love of the outdoors in me and my twin sister. My father and mother were both pilots and we owned a plane, so we got to see a lot of Alaska growing up. I grew up in Anchorage and moved to Girdwood after college in 1994, where I still reside. I love Turnagain Arm and the Kenai Peninsula and am fortunate to call this area my home. I am married, with two kids and three dogs. Previous to working for the Alaska Wildlife Conservation Center (AWCC), I worked at Alyeska Resort for over two decades and for the past nine years, was the Alyeska Resort mountain general manager and VP.  I am very passionate about my family, skiing, hunting, fishing, camping, hiking, biking, the outdoors and animals.
Why did working at the Conservation Center interest you, and how did you get started? 
I had recently resigned from Alyeska Resort and took the summer off to recharge my batteries. I was looking for something new and, for me, I have to be passionate about the work I do. It had to be something special. A friend of mine who works for AWCC called to tell me they were looking for a director of operations.  I have been taking my kids to the Wildlife Center and attending events there for over 15 years. I was very familiar with the work they do to ensure the preservation of Alaskan wildlife through education, which is something I am very passionate about, and decided to apply. Luckily for me, I got the job.
How has the 2016 tourist season been for the center?
The 2016 tourist season was great for the center, and we had over 200,00 visitors. I wasn't part of the summer here at the center, but the visitor numbers were up.
Is there a memorable story that has happened at the center this season? 
There are a lot of memorable moments at the center, and all of them revolve around the animals. For me, the most memorable moment I have is getting to feed Kobuk, our baby black bear, with the animal care staff. I also got a tour of the center on my first day from Mike Miller, AWCC founder and executive director. He went through the history of the center and had amazing stories about the wood-bison release. He is an inspirational man that had a vision and made it happen.
What's the biggest challenge facing the center?
The biggest challenges are getting all of the projects done in time for summer 2017 and finding the funding to make it all happen.
What projects do you have coming up?
We currently have a lot of exciting projects going on at the center, and this past summer was challenging, but we now have a new water-treatment plant and new bathrooms at the bears exhibit, which means no more porta potties! We just finished a new bird mew display for our eagle and owl. Bison Hall, our new educational facility, is in the process of being completed, and we are hoping to have that open in May with food services run by NMS. We are also building a new animal infirmary and improving our animal shelters. One project we hope to have completed in time for next summer is revamping our ticket booths to streamline the process. Visitors to AWCC next summer should see a lot of great improvements for our guests and our wildlife.