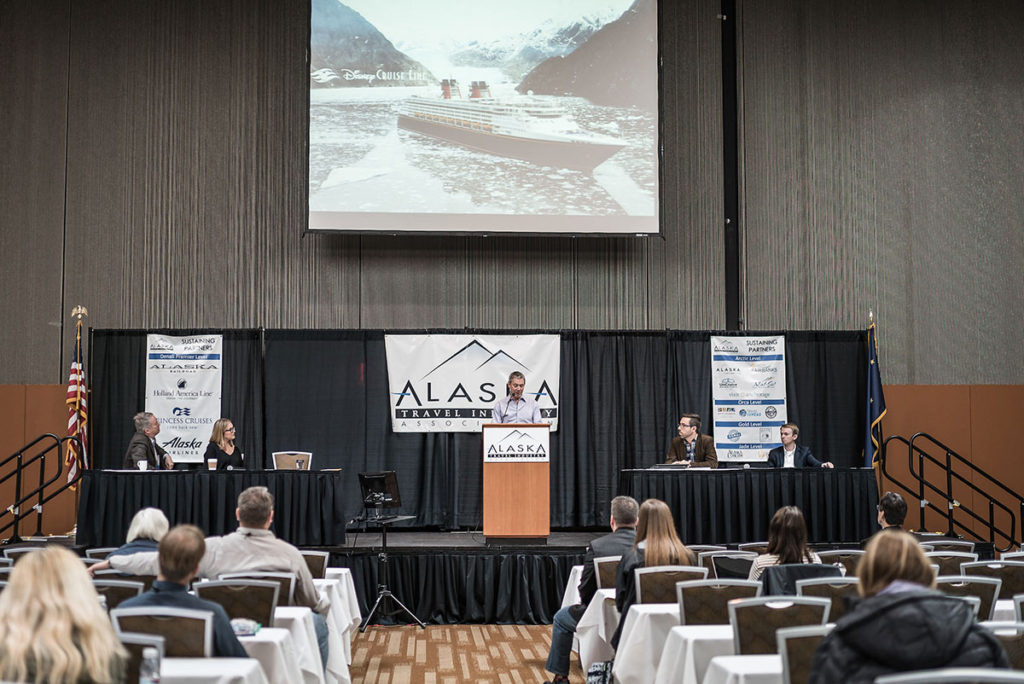 It was rosy predictions dished up with a big caveat when four leaders in the cruise ship visitor industry discussed the state of the industry during the Alaska Travel Industry Association's annual meeting.
CLIA Alaska President John Binkley said "strong" is the one word that best describes the current cruise industry in Alaska, while "booming" applies to the rest of the world. The 2016 season has been great, with 31 vessels making 477 voyages to bring more than 1 million visitors to Alaska. Next year should be even better, with an all-time record projection of 1.06 million passengers.
But, he warned, "…what happens to the marketing budget today could negatively impact the cruise industry in 2019 and beyond" as it takes several years for major changes like reduced marketing and new taxes to begin impacting the industry.
Binkley reminded the audience of what happened after a cruise ship initiative narrowly passed in 2006 that imposed five new taxes and environmental standards too strict for available technology to meet. The initiative drove the three biggest lines that sail to Alaska – Princess Cruises, Holland America Line, and Royal Caribbean – to pull ships from the Alaska market. The impact of losing multiple vessels was huge: about $150 million/year in lost revenues, and a loss of 5,400 jobs.
It took additional marketing, initiatives to lower costs so margins are competitive and stable, acceptable technology improvements to lure the ship back, he said.
Lisa Syme, commercial vice president for Princess, examined opportunities and trends, noting that visitors want glaciers, wildlife, mountains, Denali, seafood, railroads and the Inside Passage.
Visitors are "a big win" for Alaska, she said, with their high spend in state ports, which generates revenues to grow businesses.
Alaska has four big opportunities, she said: attracting more international visitors, especially from China and Asia; expanding infrastructure to accommodate more ships and passengers; bigger ships; and always thinking of new ways to promote destinations within Alaska and keeping products fresh.
Syme said social media has been a game changer. "Visitors love telling their stories, and stories lead to growth."
Arnaldo Zanonato, senior manager of port adventures for Disney Cruise Line, said his company's focus on multi-generational families creates a challenge to find activities that appeal to everyone. His favorites are ones that make real connections to life and history like "Dog musher for a day" and "Donald Duck visits Liarsville." In the later, Donald Duck leaves the ship dressed in mining clothes and later tells the story of how his grandfather made his fortune in Skagway.
"Ask the question," Zanonato said. "How can you exceed your guest's experience?"
Earlier in the panel, Zach Kilpatrick with Alaska Dream Cruises, said the small-ship industry is filling a niche for active visitors aged 55-64-years-old who are politically active and above average in wealth. These visitors are interested in wilderness, exclusive access, glaciers, small communities and Native villages.
Alaska Dream Cruises has grown each year since it started operations in 2014 with 1,961 passengers. This year the Sitka-based company carried 2,936 visitors.
Ralph Samuels, vice president, government and community relations, Holland America Group, recapped some of the highlights of the panel and said whether you are a port or tour operator, the best way to increase your business is through "growing the pie." By remaining competitive and attracting more ships, we can help the state's economy, local communities, and businesses who create thousands of jobs across Alaska.