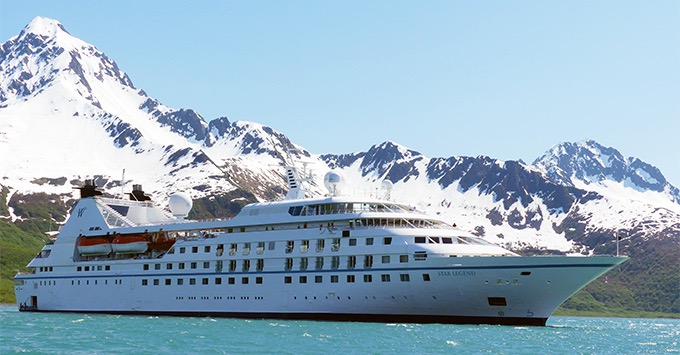 By Dori Saltzman
Senior Editor
This spring Windstar Cruises returned to Alaska for the first time in more than 20 years, with a program that incorporates elements of expedition cruising, including Zodiac and kayak touring, expedition leaders and informative lectures.
Cruise Critic was onboard Star Legend for the third sailing of the new Alaska program, trying out all of the expedition offerings.
For anyone familiar with expedition cruising, Windstar's offerings can be classified as "expedition lite." Rather than being the sole focus of the cruise, Windstar layers the expedition offerings on top of its traditional small-ship cruise experience, so it's a bit of a hybrid. Expedition excursions (referred to as "Signature Expeditions") are optional, cost extra and offered only on the three scenic cruising days, with one exception – a hike when the ship is Wrangell.
That's different from a regular expedition cruise, where most excursions have an expedition slant, are included in the fare and take place during port. Passengers can participate as they wish or not at all. And people are participating. So far, about 55 to 60 percent of the passengers on each sailing book at least one, if not more, of the Signature Expeditions, and the theater is usually about 40 percent full for the lectures.
Zodiac tours are offered in Kenai Fjords, Misty Fiords, and Tracy Arm or Endicott Arm.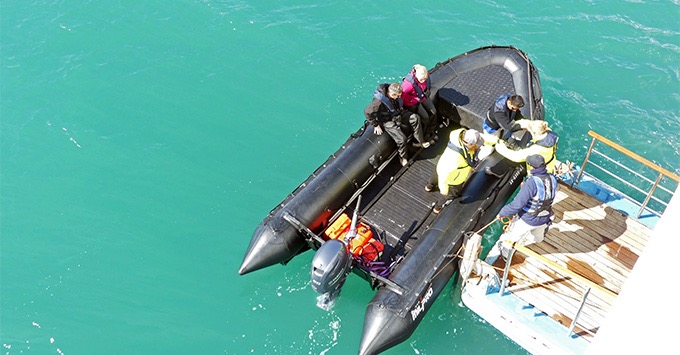 Here are a few other things to know about Windstar's Alaska Expeditions.
Expedition Team: The expedition team on Star Legend is composed of six members and is led by Captain Simon Hook, who spent many years with Alaskan Dream Cruises, an Alaska expedition cruise line. The rest of the team consists of a biologist and marine biologist, scuba divers and several with captain's licenses – all are highly knowledgeable about Alaska's sea and bird life, glaciology and Alaska history and daily life. The team has a room off the show lounge where they keep books and maps and are usually available to answer any questions.
Lectures: Informative lectures are offered whenever there is a free time slot during the day. It varies by itinerary; so far, on southbound cruises, the team has been able to fit in 11 lectures. On northbound sailings, there's time for eight. Subjects include daily life in Sitka, birds of Alaska, whales and other sea mammals, herring and its importance to Alaska's wildlife, and more. There's always plenty of time afterward for questions.
Zodiac tours: Zodiac tours up to the face of a glacier are offered on three days of the two-week sailing (in Kenai Fjords, Misty Fiords, and Tracy Arm or Endicott Arm), with up to five trips of six people each time. With four Zodiacs going out at once, that's a maximum of 120 people who can participate in a Zodiac tour on any given day they're offered; they cost $170 a pop. So far, the tours have sold out every time, and Windstar is looking at ways to expand the capacity. Coast Guard regulations limit the number of passengers that can go out at six, but the boats can hold more, so the line is seeking permission to take up to eight, which would open up 40 more spots. One thing the line cannot do is offer Zodiac tours on days the ship is in port as it cannot compete with local operators.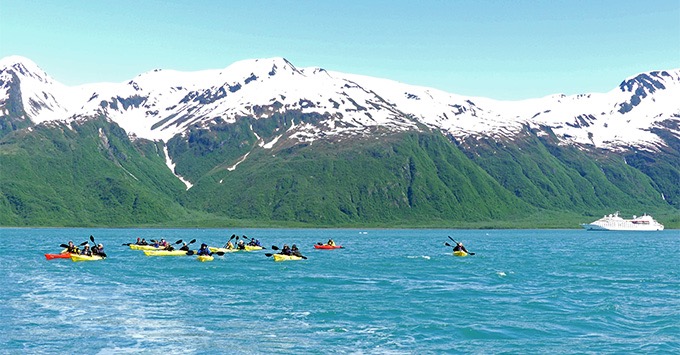 Kayak trips: Kayak tours are also offered on scenic sailing days and, due to popular demand, Windstar has just started offering a kayak trip while the ship is visiting Metlakatla (they can do this because the port is privately owned by a Native group that does not offer its own tours, so there is no competition). Star Legend carries 12 two-person kayaks and offers one 2.5-hour kayak excursion on any day it's offered for $175 per person. While there is slightly less demand for these physically taxing excursions, so far, they have sold out every time. Kayak tours are not loaded from the ship; instead, the two Zodiac captains take the 12 kayaks out a distance from the ship and then participants load a Zodiac, which doubles as transportation to the kayaks and as an embarkation platform.
Hike: There is one Signature Expedition hike during the cruise, though there are at least three other hiking tours offered (in Sitka, Haines and Prince Rupert, British Columbia). The difference is that the Signature hike is led by members of Windstar's expedition team, while the others are led by local guides. The hike carries a cheaper price tag of $40.
Overall, Windstar's expedition program is a wonderful add-on and adds value for passengers who have chosen the line for the overall Windstar experience. It might not, however, be robust enough for cruisers looking for a full expedition experience or appeal to those who would rather have unlimited expedition excursions built into the fare.
Source: Cruise Critic