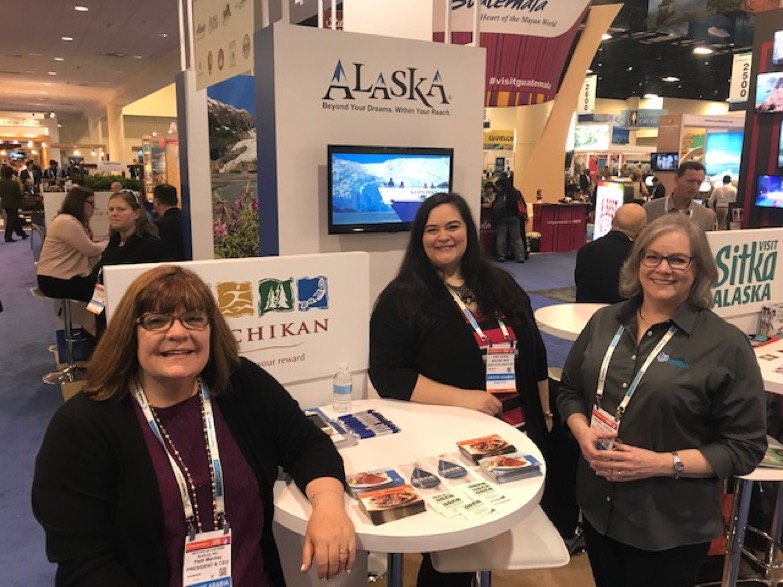 Alaska cruises jumped to the top spot from last year's fifth place to become the most booked domestic vacation for 2018, according to Travel Leaders Group's 2018 Travel Trends Survey.
Orlando dropped to second place, followed by Las Vegas, Maui and New York City.
Alaska cruises have been among the top 10 domestic trips booked by Travel Leaders Group travel advisors over the last several years. According to the Cruise Lines International Association, member lines sent 33 ships on 497 voyages carrying a total of 1,089,700 passengers to Alaska in 2017. The projections for 2018 are 34 CLIA Alaska ships, 519 voyages and 1,165,500 passengers. Projected 2019 figures are 37 CLIA Alaska ships, 567 voyages and 1,310,000 passengers.
John Binkley, president of Cruise Lines International Association Alaska, expects the Alaska cruise industry will see unprecedented growth over the next two years, as it ranks very high in guest satisfaction.
"Alaska is an exotic destination for many travelers. There aren't many places where cruise passengers get to experience the mountains, glaciers, wildlife, culture and such hospitable hosts who welcome and eagerly share what they love most about our state."
Internationally, Caribbean cruises and Cancun, Mexico, respectively, maintained the top two spots, while European river cruises edged up one place to third. Mediterranean cruises and Punta Cana, Dominican Republic, were fourth and fifth, respectively. Top "up and coming" destinations include Iceland, New Zealand, Thailand, Vietnam and Croatia.
Top "Up and Coming" International Destinations
Europe: Iceland (42.9 percent), Croatia (17.9 percent) and Portugal (11.5 percent).
Pacific: New Zealand (28.7 percent), Tahiti (13 percent) and Bora Bora (11.1 percent).
Asia: Thailand (24.8 percent), Vietnam (20.8 percent) and Maldives (15.6 percent).
Central/South America: Peru (16.7 percent), Panama (14.6 percent) and the Galapagos Islands (14.2 percent).
Africa: Kenya (10.2 percent), Morocco (6.9 percent) and Tanzania (6.5 percent).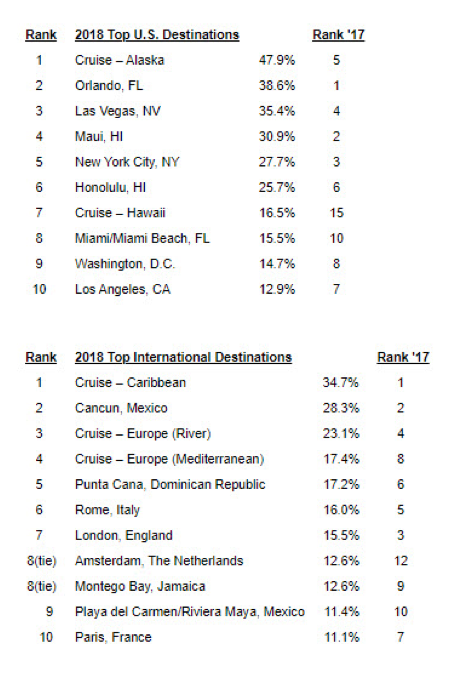 Based on actual booking data, the survey was conducted over two months from December 20, 2017 to February 19, 2018, with responses from 1,355 North American-based travel agency professionals.
Source: Seatrade