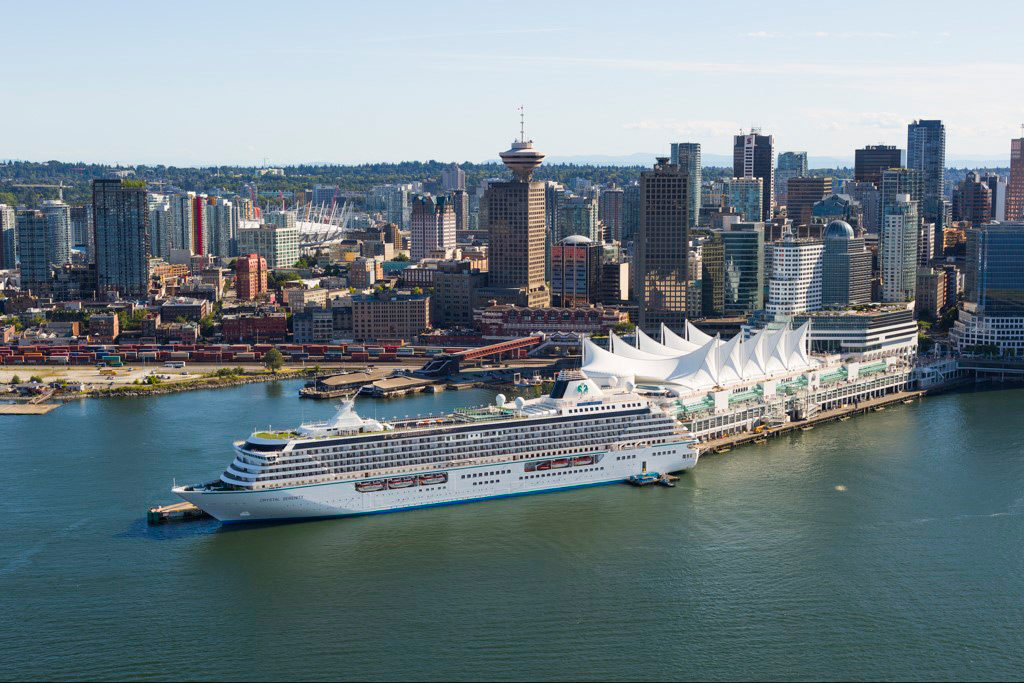 Vancouver will greet about 900,000 passengers on 241 calls this year and more than 1 million passengers on 265 calls in 2019.
"Over the next two years, we will see our passenger volume grow dramatically," said Carmen Ortega, manager of trade development at the Port of Vancouver. "This year, we are going to see about 900,000 passengers on 241 calls and, next year, more than 1 million passengers on 265 calls," she added.
New in Vancouver this year will be Windstar Cruises, sailing the 204-guest Star Legend on 12- to 14-day itineraries, while the 4,200-passenger Norwegian Bliss will call on a repositioning voyage.
"It (Bliss) will be the biggest ship we have ever had in Vancouver, and we have been planning for a couple of years," Ortega said. "As we will have two other ships in port on the same day, it will be a good-busy day in the city."
And for 2019, Cunard, Viking Ocean and Azamara are set to join the Alaska market from Vancouver.
Possible new terminal
"We are planning for future growth here in Vancouver," Ortega continued. "We know the ships are getting bigger, which is an emerging issue not only here but also worldwide, so we are developing short- and long-term plans to enable the business to grow here. One of the things we are looking at now, and consulting with our cruise line clients about, is a possible new terminal outside the Lion's Gate Bridge."
Meanwhile, Canada Place is also being enhanced with new fendering systems and upgraded gangways.
Vancouver also offers shorepower, and Ortega said that about 40 percent of the ships calling are shorepower enabled. Incentives to plug in includes an almost 50 percent reduction in harbor dues.
"That is our approach to a number of environmental initiatives," she added. "We want to make it voluntary and incentivize ships rather than mandating and penalizing."
Another unique environmental program that the port is participating in was an effort last fall to study the effect of underwater noise on killer whales in the area. Conducted between Aug. 7 and Oct. 6, voluntary participation extended to all ships that were asked to reduce their speed in the Haro Strait to 11 knots, and some 61 percent participated, according to Ortega.
Economic impact
"We updated our economic study in 2017," Ortega explained. "In the past, we had determined that the direct economic impact of each ship call was $2 million. Now that is up to $3 million for tours, taxis, hotels and more. That is very significant as we are a seasonal business only operating from May to September and October. When we look at 2016, the total economic impact was $1.6 billion. And that is just here, but our passengers also explore British Columbia and Victoria, so other communities benefit as well."
Among the selling propositions for Vancouver as a cruise port, Ortega said, is that ships can sail one-way Alaska itineraries, with passengers flying to and from Anchorage, offering what she called the full Alaska experience.
Asia potential
While the cruise passengers sailing from Vancouver have predominantly been from the United States, around 80 percent, that is changing, with the American share dropping to some 60 percent, with 23 percent from international markets and the balance from across Canada, according to Ortega. The biggest foreign markets are the UK, Australia and Asia. "We are well poised to attract more Asian passengers," she said. "We have direct air capacity links to many destinations in Asia and China."
Source: Cruise Industry News