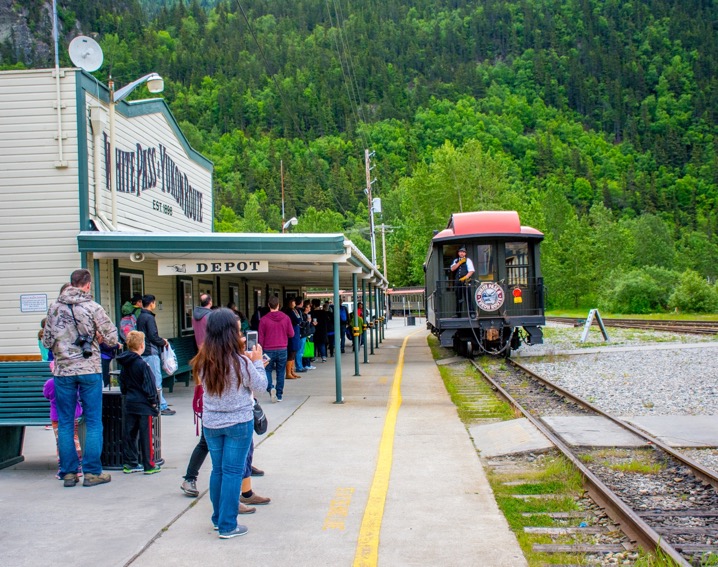 The new owners of White Pass & Yukon Route rail and port operations have deep roots in Alaska and the cruise industry, in addition to operating marine and rail terminals around the world. Here are the players.
Survey Point Holdings is Bob Berto's family business. "Over the last 40 years, we have been doing business in Skagway representing and working with cruise lines throughout Southeast Alaska and successfully running the port operation in Skagway for White Pass," Berto told the Skagway Assembly. "We have also supplied tugs to the cruise ship industry, and our employees operate flightseeing tours on aircraft we have stationed here." His companies include Temsco Helicopters and Cruise Line Agencies of Alaska.
Joining Berto are his partners from Seattle: Ricky Smith and Jon Hemingway, who was CEO of Carrix for many years. "Carrix, through many local companies and joint ventures, operates container, breakbulk, bulk, cruise and rail ports in over 250 locations worldwide. Both Jon and Ricky are very familiar with Alaska, having been our partners (in Survey Point Holdings) and having helped us deal with change and growth over the last 60 years. Ricky lives in Sitka, Jon in Seattle," Berto said.
"At the time we first got involved in the discussion about the sale of White Pass, its owner was quietly soliciting potential buyers for the company, including cruise lines and port operators. As Carrix and its affiliates are the largest operator of cruise ports globally outside of the cruise lines themselves and are the largest owner and operator of ports and rail terminals in the western hemisphere over a wide variety of business models in ports large and small, it was natural for Holland America to ask, and Jon agreed to help."
Carnival plc has a significant minority stake in the joint venture. Carnival is the world's leading cruise company and the largest in Alaska. Four of its lines now call on Alaska, including Holland America, Princess, Carnival and Seabourn, while a fifth, Cunard, will add Alaska next year.