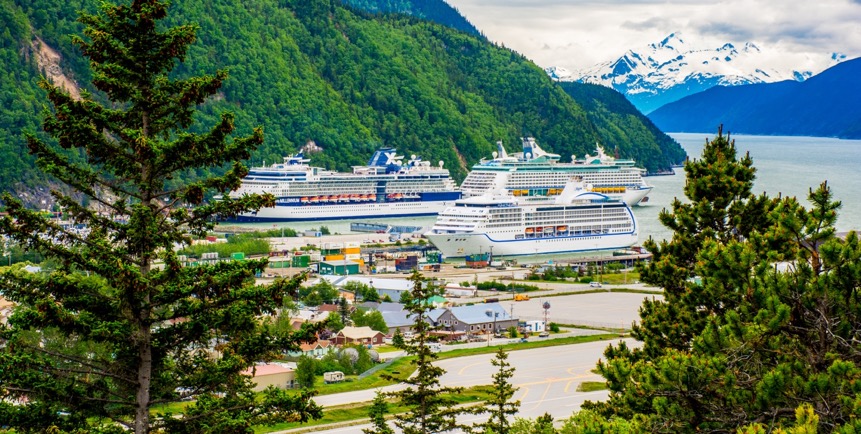 The ink was barely dry on the sales contract before things began to change at the White Pass & Yukon Route's rail and port operations.
"It's a new day. It's an opportunity for us to set aside everything that has happened over the last 100 years and map a new future," said former Skagway Mayor Tim Bourcy.
The new owners are in a joint venture that includes Ketchikan-based Survey Point Holdings, its affiliates Rail Management Services, transportation company Carrix and minority partner Carnival plc. Bob Berto, a familiar face in the maritime and tourism industries in Southeast Alaska and Denali, is the new president.
In a letter to assembly members, Berto said Holland America asked the new owners to help them evaluate a possible purchase and conduct due diligence. "What we learned is that Holland America, like the other cruise lines, was quite concerned that the buyer might end up being a company with no experience in rail operations, Alaska cruise ports, the local workforce … and they were quite concerned with the lack of progress between the MOS (Municipality of Skagway) and White Pass in maintaining its docks to manage the larger cruise ships that are headed our way."
Berto said Skagway's docks are "aging," particularly the Ore and Broadway docks, and its port is "in desperate need of upkeep and modernization."
"We just got word that vessel calls will need to divert to other ports next season and perhaps other places in the future because the facilities here are unable to accommodate the vessels."
Immediate priorities include a "much needed dolphin mooring at the end of the RR docks" and a floating component at the Ore dock. The new owners have already hired consultants to monitor and mitigate rockslides above the railroad dock and to address the environmental damage cause by past ore-loading operations.
"This is a huge undertaking … our commitment to the Skagway community and the cruise industry made the decision easy for us as we wanted the remediation done now and done right."
Other near-term objectives include improving pedestrian access and public safety along with modernizing and refurbishing the train locomotives, parlor cars and improving the track.
"We have a lot to do, as there is a lot of work that is overdue," Berto said. "But we are super excited at the opportunity and look forward to engaging with the Municipality of Skagway, our employees, its citizens and our customers as we move forward."