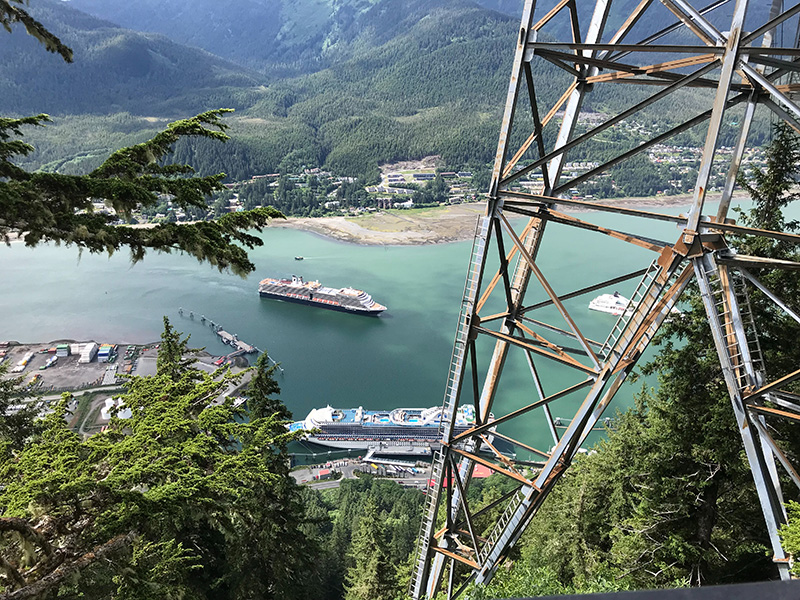 By Larry Hartig
Each year over a million visitors travel to Alaska on cruise ships, which are essentially floating resorts. As you'd expect from any resort, they generate waste, including wastewater from laundries, bathrooms, and food preparation and engine exhaust. How we treat this waste has changed over the years in response to new federal, state and local requirements, as well the growth of ships and technological advances. It is a constantly evolving process that the Department of Environmental Conservation (DEC) takes seriously: we work with vessel owners, federal and local partners to protect Alaska's air and water.
First, the basics: permitting. Visiting cruise ships must carry permits from DEC and the Environmental Protection Agency, as well as approval from the U.S. Coast Guard to discharge wastewater into the ocean. In combination, these permits and approvals have strong requirements, comparable to a seafood processor or a city's waste treatment plant. Under the DEC permit, if a ship plans to discharge wastewater into Alaska's waters, they must abide by the most stringent requirements to prevent the spread of bacteria, using advanced wastewater treatment systems that represent the best available technology. The EPA has two general nationwide permits for large and small vessels for the kinds of wastewater not covered by specific state and federal requirements, like swimming pools, boilers, deck washing, exhaust gas scrubbers, and other sources.
In order to guarantee compliance, DEC's Ocean Ranger program puts marine engineers on cruise ships to observe and identify potential environmental problems. Through permitting, active inspections and consistent monitoring, the EPA, Coast Guard and DEC protect the quality of Alaska's waters.
We also work to protect Alaska's air, so DEC regulates smoke emissions from cruise ships. In 2008, the U.S. adopted an international standard designed to reduce emissions of sulfur dioxide from large ships: the amount of sulfur allowed dropped in 2010, and again in 2015. Ship owners have been working with the EPA to meet these new standards, including switching to low-sulfur fuel and installing "scrubbers" to "wash out" the sulfur in exhaust fumes before it leaves the stack. But that produces a new waste stream — scrubber wastewater. Ships already have to comply with federal regulations that cover it, and because the technology is new, we're in the process of including it in Alaska's permitting structure, too. That should happen next year.
But as a number of people in Southeast Alaska have observed this summer, the wastewater discharges and air emissions from some of the large cruise ships have changed. The wastewater from the scrubbers can contain a lot of bubbles, and look "frothy." It sometimes has higher acidity. From discoloration and sheens to unknown residues, we're examining the cause and looking for solutions.
People in Juneau have also been noting changes in the appearance and odor of the air emissions from some of the cruise ships. The changes could be the result of a combination of issues such as added water vapor from the scrubbers, the water vapor cooling the exhaust, or the scrubbers not reducing particulate matter. Although scrubbers are relatively new, the DEC regulations for opacity or "smoke" remain unchanged. We continue to measure emissions, check in with the cruise lines to find solutions when problems are identified, and carry out enforcement when necessary.
As part of our mission to protect Alaska's air and water, we want to be transparent and make sure Alaskans have access to information as we continue to work to address these problems. We're organizing public meetings in Ketchikan and Juneau to discuss what we are observing with cruise ships and how DEC is working with local governments and the EPA to protect air and water quality.
There's also more information on the web at: http://dec.alaska.gov/water/cruise-ships/.
Larry Hartig is the Commissioner of the Alaska Department of Environmental Conservation.