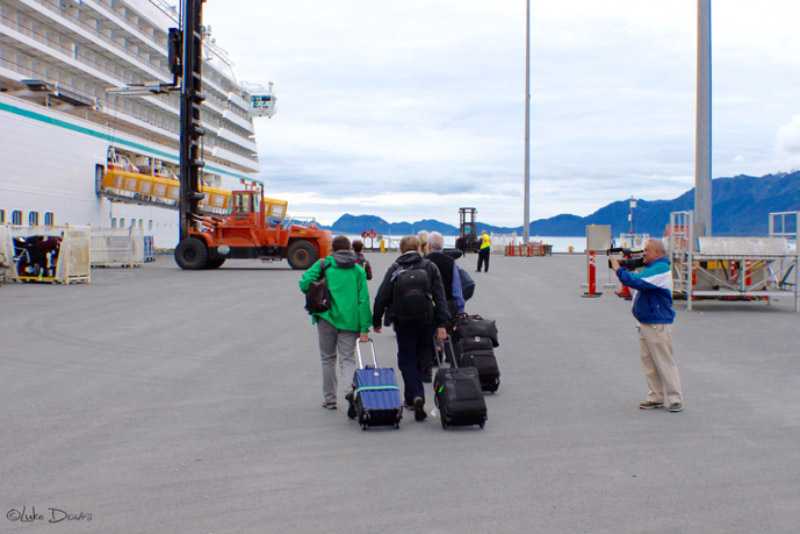 What do you do on a 32-day excursion through the Arctic?
One Alaskan, a retired Anchorage businessman, packed three cameras, a notebook, his satellite phone and Winston Churchill's six-volume history of World War II – along with some vintage wine.
"I've always been fascinated with the Arctic," he said a few days before boarding the ship. "Always wanted the opportunity to explore it."
Packing light was not an option for the 1,079 other passengers. Support crew in Seward reported that each passenger averaged seven suitcases.
Crystal Serenity will travel at eight to 10 knots, without time pressures to reach each destination, so there is the chance for impromptu stops to enjoy unexpected attractions along the way.
There are 21 guest scientists, adventurers and lecturers on board, including marine biologists, divers, astronauts, climatologists and naturalists to provide commentary to the passengers. The Ernest Shackleton will support Crystal Serenity's adventures ashore, carrying newly acquired zodiacs for "wet" landings and two helicopters that will be available for tours.
Adventure awaits at each port of call. In Nome, Discovery Tours prepared an extensive list of activities for passengers, including a variety of hikes and flying tours, as well as a trip to Shishmaref, billed as a global warming experience, and even a flight to Russia.
"They (Crystal) came to us and said, 'What can you develop for us?'" explained Robin Johnson,  a partner at Nome Discovery Tours. "And we worked on that. And they told us what they liked and what sounded good. We've been talking a lot all year. There's been a ton of communication."
Crystal also worked closely with the residents of Cambridge Bay, Nunavut, Canada, population 1,500. Passengers will visit the community in shifts of 150, where they can experience throat singing, watch a fashion show and visit residents' homes.
"They are doing everything right and more," said Vicki Aitaok, who runs a tourism company in Cambridge Bay. "They've come to the community … they've connected with Nunavut regulatory agencies, they've connected with government people, the Canadian Coast Guard."
In Greenland, passengers can opt to take a $4,000 camping trip.
There's also lots to do aboard the 13-story, 68,000-ton ship. For the sports-oriented, there's a driving range and putting green, paddle tennis, shuffleboard, two pools, a fitness center, Jacuzzi and spa. Also a library, computer room, movie theater, casino, live entertainment theater and a 3,000-square-foot shopping mall. There are six restaurants, including one where you "dress" for dinner about every third day. Or, there's always room service.
"She's the Lamborghini of cruise ships," the Alaskan said.