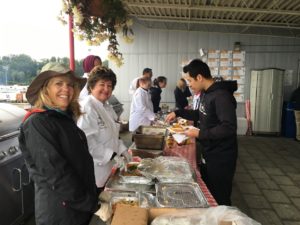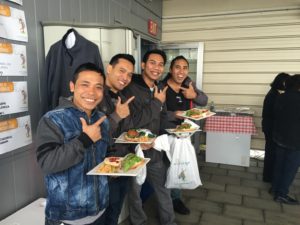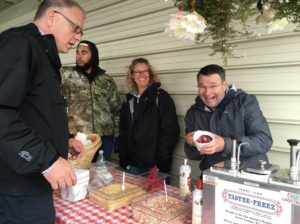 While cruise passengers of the Holland America Line ms Maasdam enjoyed an unprecedented overnight stay at the Port of Anchorage on Aug. 22, the tourism industry thanked the nearly 600 crew who work aboard the ship.
Since Memorial Day, the vessel has been coming to Anchorage every two weeks carrying up to 1,260 passengers. The Holland America Line ship docks as early as 7 a.m. and leaves as late as 11 p.m., allowing plenty of time for passengers and crew to explore the city and surrounding areas. However, on Aug. 22nd, the ship stayed overnight giving local businesses the opportunity to hold an appreciation barbeque for the crew.
Visit Anchorage organized the festivities with volunteers and business leaders gathering food donations and door prizes. They traded ties for chef's coats and aprons, serving grilled hot dogs and hamburgers to the ship's crew – a group who normally spends their day serving others. In addition to the typical American fare, the crew was also treated to local Filipino desserts, favored by many of the staff on board. Door prizes donated by the tourism industry are coveted items the crew look forward to sharing when they return home.
"Hospitality starts at home," said Julie Saupe, president and CEO of Visit Anchorage. "It's a simple gesture to thank the staff who bring visitors from around the world to our city. It's also a great way for us to demonstrate hospitality to those who work on the front lines – from the navigational crew to the housekeeping staff. We have been told that we are the only port in the world to hold an event like this for the crew."
The 2016 cruise season comes to a close for the Port of Anchorage on September 19. This year, the Maasdam brings an estimated 11,000 of the 328,000 cruise visitors expected to reach Southcentral Alaska (via ports in Anchorage, Whittier and Seward). Cruise passengers are an important part of the tourism picture and the state's economy, making up about half of the state's expected 2 million visitors this year. The average visitor spends about $941 in Alaska during their stay, not including the cost of any cruises or airfare, says Saupe. Statewide, tourism injects $4 billion into Alaska's economy and employs nearly 47,000 people at the height of the summer season.
Source: Anita Nelson, Visit Anchorage