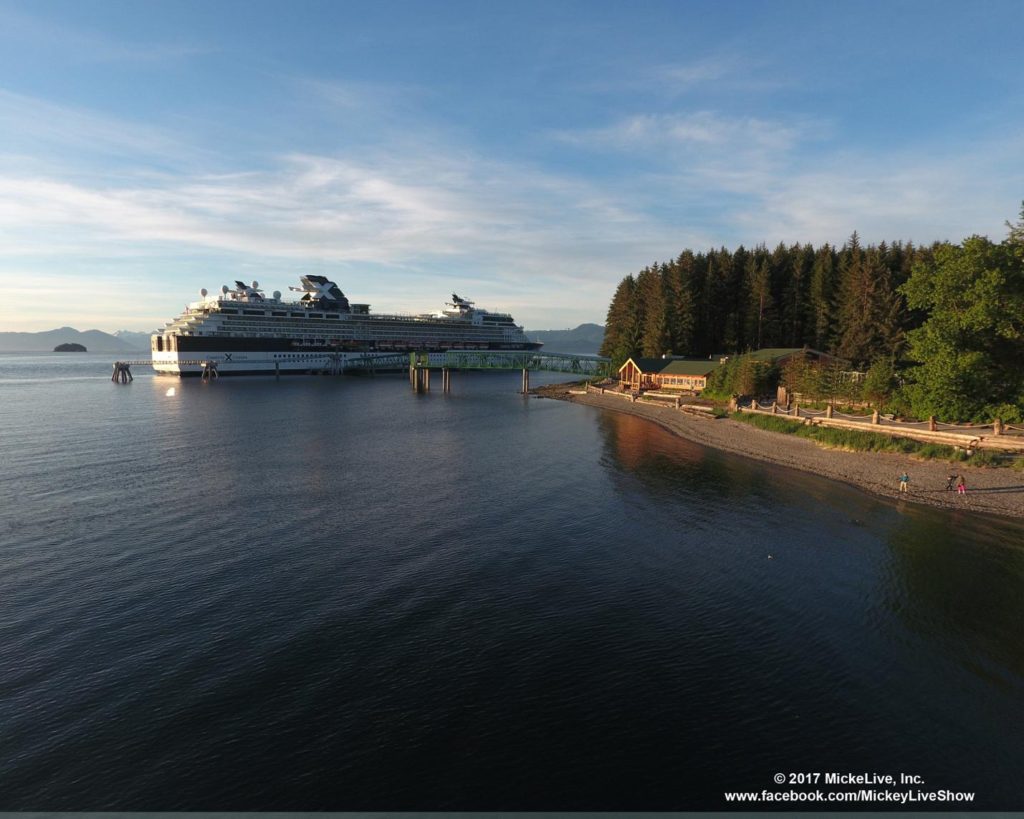 Alaska's only privately-owned cruise destination a big hit
For the adventurous, there is no better way to experience Alaska's Tongass National Forest than to glide down Hoonah Mountain rain forest at speeds over 60mph on the world's largest zipline. Guests are met with sweeping views of the northern portion of the Inside Passage. Just steps from the ship, guests can dine in waterfront restaurants, walk along nature trails and view area wildlife. Visit the museum and learn about the history of Hoonah, Alaska's largest Native Tlingit village, or explore the area on one of more than 30 shore excursions.
Nestled between Juneau and Glacier Bay, Icy Strait Point – the only private, large-ship cruise destination in the United States – is fast becoming one of Alaska's top cruise destinations.
So why is Icy Strait Point so successful?
The community that was once fueled by logging and fishing now embraces tourism as its number one resource. What housed many of Hoonah's residents after their city was destroyed by fire in 1944, the century-old fish cannery has been completely restored as a first-class cruise ship and visitor facility.
"It is a community endeavor. Seventy percent of the workforce are Huna Totem Corporation shareholders who love hosting visitors from around the world to their close-knit community," said Tyler Hickman, vice president for Huna Totem Corporation's Icy Strait Point.
Huna Totem Corporation opened a new cruise ship dock in 2016, and this year the port hosted a total of 161,582 cruise ship passengers, on 84 cruise ships. That is an increase of 2.4 percent over 2016 – and it gets better – Huna Totem is preparing for 106 ships next season, a 15.4 percent increase in passengers. The Corporation is also working with the industry to expand capacity through additional docking infrastructure.
Simply put, Icy Strait Point is refreshingly authentic and Alaskan. Huna Totem had the foresight to establish a unique destination and experience, immersing visitors in the local Tlingit culture. It's no wonder why it is a favorite of cruise ship visitors.
Icy Strait Point's top 10 attractions
Icy Strait Point and Hoonah offer more excursions, adventures, sights and fun for visitors than could possibly be packed into a single day. Here's a sample, in no particular order.
Whale & Marine Mammals Cruise – Spend part of your day with Alaska's largest summer population of humpback whales on the only tour in Alaska that 100% guarantees you will see whales, or receive a $100 refund. Orcas, sea lions, seals, and porpoise even bald eagles and bears on a beach walk can also be spotted on this excursion.
Icy Strait Point's top 10 attractions

Icy Strait Point ZipRider – Sit down and slide down a cable from the top of a mountain, 1,300 feet above sea level, on the world's longest and highest zipride. This is one adventure you will not forget. Many riders enjoy it so much they immediately decide to take a second trip down the mountain! See for yourself by watching this YouTube video.
Hoonah Sightseeing and Tribal Dance – Take a relaxing and culturally immersive tour of Hoonah, the world's largest Tlingit community and the surrounding area before returning to the Heritage Center Native Theatre at Icy Strait Point for an entertaining tribal dance performance.
Totems – These instantly recognizable icons of southeast Alaska are located throughout the area. Etched into each totem pole is a self-contained story telling the culture and wisdom of the Tlingit people.
Fishing and Wildlife Charters – Fishing and wildlife charters out of Hoonah are readily available. The crystal-clear waters around Chichagof Island are teaming with fish, birds, and marine mammals.
Shopping – In addition to the dozen retail shops at icy Strait Point, there are several more stores in Hoonah that sell Alaskan-made art, jewelry and crafts.
Spasski River Valley Wildlife & Bear Search – Teaming with coastal brown bears, the Spasski River Valley tour is 2.5 hours of extraordinary adventure. A tour guide will bring you to a viewing platform along the lower part of the river where bears congregate. Be sure to keep an eye out for eagles and Sitka black tailed deer before arriving at the platform.
Icy Strait Kayaking Adventure – Follow an experienced local guide as you paddle your way across Port Frederick on the way to Hoonah while stopping to view whales and much, much more.
ATV Tour – Tour the forests of Chichagof Island on Icy Strait Point's ATV Expedition. A local guide will provide a safety briefing before you board your ATV for a rugged drive through the forest with stops to take in the scenic valley, mountain, and ocean views. Along the way, your guide will stop to explain the natural history of the area, including the spectacular Alder tunnels that have formed over the trail!
Alaska's Wildest Kitchen – Love seafood? Alaska's Wildest Kitchen is just for you! Participate in a hands-on tasting session which may include fresh and canned salmon dishes, grilled halibut, Dungeness crab, wild berries, seasonal herbs, and vegetables. Printed recipe cards are included in the cost of the tour.