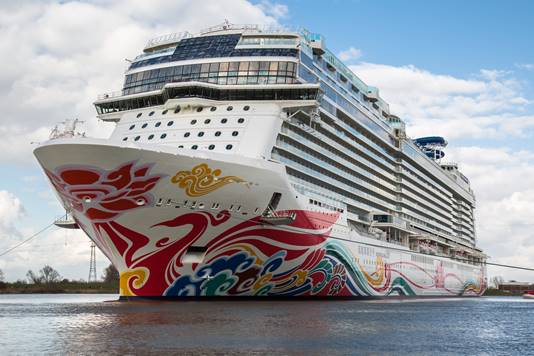 The 3,883-passenger Norwegian Joy will reposition to Seattle next April to offer seven-day voyages to Alaska, replacing Norwegian Pearl as the line's third ship in the region, along with Norwegian Bliss and Jewel.
Prior to arriving in Seattle, the 2017-built Norwegian Joy will undergo approximately $50 million in upgrades to enhance features and bring designs and offerings to become virtually identical to those of newer sister Norwegian Bliss. Changes 20-deck ship include the addition of a Starbucks store and enhanced restaurant, bar and entertainment options.
Norwegian Joy will cruise a variety of itineraries featuring Juneau, Ketchikan, Skagway, Holkham Bay and Icy Strait Point. The ship will also call at Victoria, BC.
"Norwegian Cruise Line expanded the Alaska cruise experience as the first line to sail to the state from Seattle over 24 years ago," president and CEO Andy Stuart said. "I am extremely excited to further strengthen our presence in the region with the addition of Norwegian Joy, sister ship to Norwegian Bliss, the most successful ship in our 51-year history."
Both ships have stunning observation lounges, ideal for Alaska, plus racetracks and laser tag arenas, while Norwegian Joy offers the line's only Galaxy Pavilion, which features simulator rides and interactive video walls.
Following its inaugural Alaska season, Norwegian Joy will sail to Los Angeles for a season of Mexican Riviera and Panama Canal voyages in winter 2019/20. This move will mark a turning point in the historically underserved winter cruise market on the West Coast of the US with the arrival of a premier cruise ship.
Norwegian Joy
Length: 1,094′
Construction started: August 14, 2013
Launched: March 4, 2017
Cost: $1.4 billion
Capacity: 3,883
Crew: 1,300