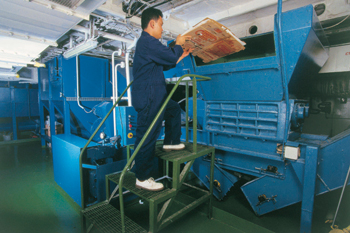 Cruise lines work hard to keep the world's beaches and oceans clean and they collaborate with environmental stakeholders, develop innovative technologies and lead the maritime sector in environmental best practices and policies. In cooperation with its members, CLIA developed a report to highlight the state of the industry's environmental initiatives in 2016 and its ongoing commitment to responsible, sustainable cruising.
"Protecting and preserving the environment is the right thing to do and it is fundamental to the long-term success of the cruise industry," said Cindy D'Aoust, president and CEO, CLIA. "As the CLIA Sustainability Report demonstrates, our Cruise Line Members are committed to environmental best practices and policies that will ensure that cruise passengers have access to pristine oceans, clean air and beautiful destinations for generations to come."
Cruise ships can repurpose nearly 100 percent of the waste generated on board – by reducing, reusing, donating, recycling and converting waste into energy.  In addition, the cruise industry actively encourages passengers to join environmental stewardship efforts by offering onboard resource conservation programs.
"Cruise ships use some of the most innovative recycling, reduction and reuse strategies in the world," said D'Aoust.  "Thanks to the leadership of cruise lines and the efforts of dedicated crew members, cruise ships recycle 60 percent more trash per passenger than is recycled by the average person on land."
This recycling includes more than 80,000 tons of paper, plastic, aluminum and glass each year. Unrecyclable waste on cruise ships can be less than 1.5 pounds per person per day, compared to the average of 4 to 5 pounds per person per day on land in the United States.
"Beautiful oceans and destinations are critical to cruise travel. The cruise industry is committed to protecting the environment because it is the right thing to do, and it is fundamental to the success of our industry," D'Aoust said.  "The cruise industry takes seriously its responsibility to recycle and reduce waste to ensure our guests have a wonderful vacation experience.  CLIA cruise line members pride themselves on being leaders in recycling, and look forward to continuing to innovate."
To read the report, click here.