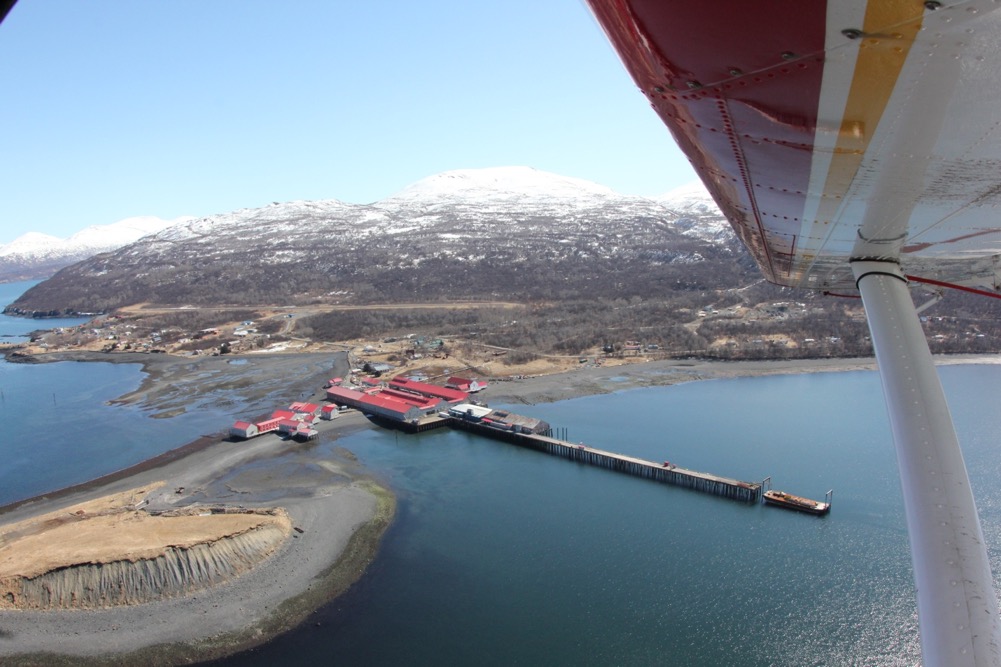 By Gabe Stutman
The village of Larsen Bay will host some out-of-towners this summer.
For the first time, a luxury cruise ship will be stopping by the village, which is located 60 miles southwest of the city of Kodiak. Home to Alutiiq Natives for centuries, Larsen Bay has a population of 87 and is accessible only by boat or plane.
Alice Aga, the city's mayor, said locals see an opportunity in the planned stop. During months when the Icicle Seafoods processing plant is closed, jobs in the village depend almost entirely on tribal and local government administration. Tourism gives residents the chance to supplement their income.
"The community is really excited," Aga said. "This is a high-end cruise."
The anticipated purchasing power of the visiting group doesn't hurt. According to the website for Silversea, the company offering the cruise, a 12-day Alaska trip costs $9,900 per person. It includes luxury ocean-view suites onboard, as well as a spa and fitness center, multiple fine-dining restaurants and a personal butler.
Aga said village leadership is working with the cruise company to plan activities for the daytrippers. Under consideration are a tour of the village and fish cannery, a lesson in the preparation of traditional foods, a hike to the village reservoir and a kayak trip. Also being considered: a demonstration of how to process salmon or deer.
"We're just hoping that we can pull something together that's presentable and represents our community," Aga said.
Aimee Williams, director of Discover Kodiak, said developing a tourism program on short notice – in a village where none existed before – is a challenge.
"We're struggling a little bit, because we don't have a lot of touristy things to do over there," she said. 'We're working with them step-by-step."
Kodiak city harbormaster Lon White said it's the first time he can remember a cruise ship visiting one of Kodiak's outlying villages. He said it was a good idea for those interested in seeing a different side of the state.
"If you want to get off the beaten path and see something unique in Alaska, Larsen Bay has a 100-year-old cannery, or more" he said. "The boardwalk, the little town, the church – it's very neat."
Silversea differentiates itself in the cruising market with high-end luxury and by making stops in remote places. As opposed to mega-cruise liners, Silversea's Silver Explorer ship carries only 144; the nimbler boat allows for navigation in smaller ports. The company also uses inflatable boats to shuttle passengers to shore. According to the website, Silversea ships are "designed for those who delight in the thrill of discovery."
In Kodiak, cruise ships are a common sight during the summer months. This year, 17 port calls are planned between May 4 to October 5.
Visitors unload by the hundreds and spread out into the surrounding borough seeking sightseeing tours, bear viewings, fishing trips – even rounds of golf.
White said visitors often rent cars or pile into cabs to stock up on supplies for the next leg of the voyage.
"I've seen a line at the liquor store out the door and around the corner," he said.
The villages have historically not benefited as much from the island's summer tourism boom.
Williams said she hopes the visit is a step in the right direction.
"I think it's exciting if the villages want to get involved in stuff like this," she said. "It's a great opportunity to tie them into tourism."
Aga said while there's a lot of work ahead, she hopes to make a good impression on visitors during the upcoming June trip.
"We're kind flying by the seat of our pants to put something together," she said, "because they want to come back again in August."
Source: Kodiak Daily Mirror