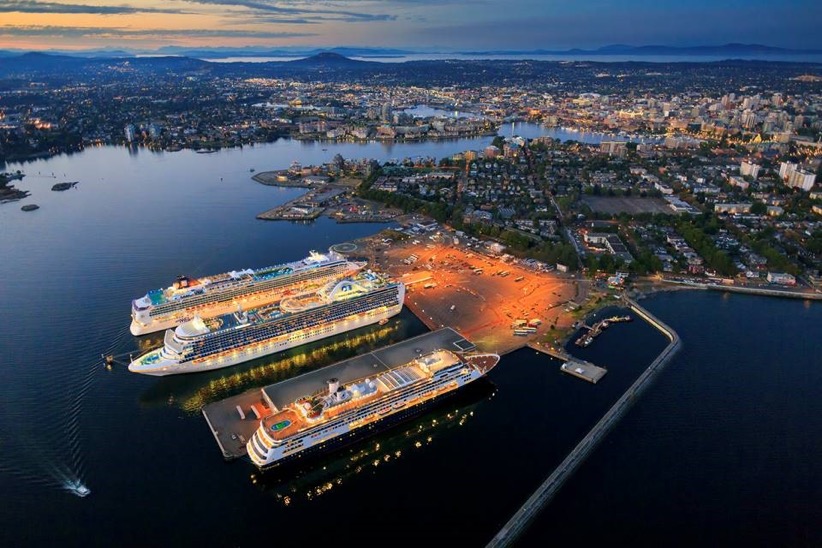 Last year turned out to be a record year for Victoria, with 239 cruise ship calls and just short of 600,000 passengers, which it expects to exceed this year, with more than 250 calls, including the 4,200-passenger Norwegian Bliss, pushing the passenger count above 600,000, according to Ian Robertson, CEO of the Greater Victoria Harbour Authority.
Meanwhile, during the off-season, the port is installing an additional mooring dolphin to accommodate the 164,600-ton Bliss, which will be the largest ship to call in Victoria.
In addition, Robertson said he was anticipating the arrival of the Ovation of the Seas from Royal Caribbean in 2019.
Homeporting
Previously announced plans to homeport have received a very positive response from the industry, Robertson said. However, one hurdle that has to be overcome in Victoria is the preclearance.
"We are waiting for a bill that has been approved by the U.S. government, and we are just waiting for final approval by the Canadian government," he explained. "That will open the door for us to offer preclearance for guests getting on their ship in Victoria and traveling up to Alaska. That is really the only thing that is holding us back.
"Once this bill makes its way through Parliament, then we can start conversations with U.S. and Canadian Customs and Border Patrols.
"We are positioned very well. We have two significant gateway airports in Seattle and Vancouver with short connecting flights to Victoria. We also have some direct flights from various locations in the United States and Canada. So, we think a small to medium ship turning in Victoria would work out quite well."
Walkable town
Victoria can accommodate three ships at once, but has had several days with four ships, meaning one ship would come in after another ship had left. In 2016, the port also had a five-ship day.
"We have very good flow in the terminal," said Robertson. "When we have three ships at the same time, they tend to arrive within an hour of each other. There is a shuttle to downtown, but it is also very walkable. In addition, people can rent bicycles, use pedicabs, rickshaws or horse-drawn carriages.
"At the end of last season, we announced a joint venture with the two motor coach companies in Victoria," Robertson continued. "What that means is that we are going to see a significant modernization of the bus fleet and, by 2022, all the buses and shuttles used downtown will be electric. This is part of our commitment to green the fleet and work toward mitigating the impact on the local community. We introduced the first all-electric double-decker bus last year."
Fourth-berth strategy
"We are seeing trends that ships are staying longer in Victoria and I hope that will continue. We have also developed a very tight working relationship with the Port of Seattle and we partner on events and communications. As Seattle goes, we go. We both play an important role in the Alaska itinerary.
"The Alaska market will continue to grow. It is also seen as very safe and secure with beautiful, untapped areas," Robertson added.
"Within 10 years, we are going to have to develop what I call a 'fourth-berth strategy,' which means we will be able to accommodate four ships at once. That is very much on my radar as I look forward."
Source: Cruise Industry News