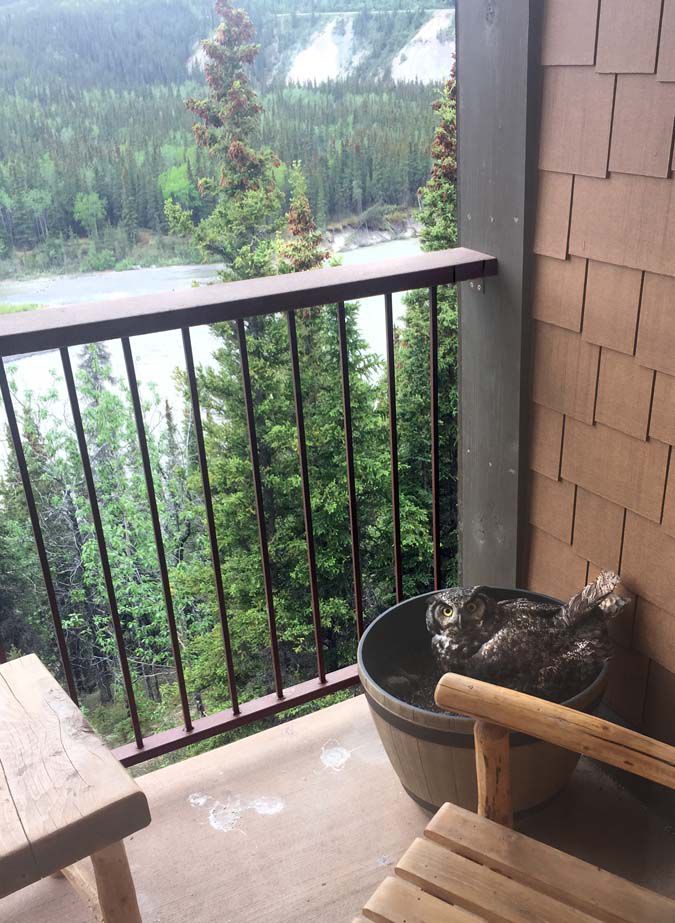 By Kris Capps
Workers opening buildings for the season at Denali Princess Wilderness Resort in April were surprised to find who — or hoo? — had already checked into one of the rooms. The surprise guests didn't fly away with their offspring until little more than a week ago.
A pair of great horned owls had decided to nest and lay eggs in a barrel flower box on the balcony of a suite of rooms overlooking the Nenana River and the mountains of Denali National Park. Workers discovered the nesting birds while opening the building before the summer season. Managers immediately called Alaska Department of Fish and Game officers, who advised workers not to disturb the birds.
Dave McGlothlin, vice president of tour operations, discovered the first hatched owlet when he peered through the curtains to check on the nesting owl.
"After we had our customary staring contest, which I lost, she flew away," he said. "I looked down and discovered one of the eggs had hatched."
The second egg hatched a couple days later.
From that moment on, the mother owl fed the owlets squirrels, shrews, and rabbits. She hooted at her babies and they hooted back. The male owl stood watch, perched on the eaves of the deck, and delivered meals on a regular basis.
Princess blocked off the room and even erected plywood over the windows and door to the balcony. But they left a hole in the plywood so they could monitor and photograph the raising of the owlets through the glass and the screen doors.
Visitors were able to watch the action from the nearby community deck when the owlets began perching on the balcony railing and stretching their wings.
"This has been an incredible experience and a highlight of the season," manager Bonnie Westlund said. "We love watching them grow."
The owlets fledged and flew away July 22, so workers are getting ready to reopen that particular suite of rooms, now dubbed The Owl Suite. That entails considerable cleanup of the balcony, covered in owl droppings. Westlund dubbed it, "the poop deck."
"It was a hoot to have them around," Westlund said. "But we are proud parents to see them grow to be healthy owls in Denali. We hope they stick around to help us with the shrew and squirrel population, too."
Source: Fairbanks Daily News-Miner