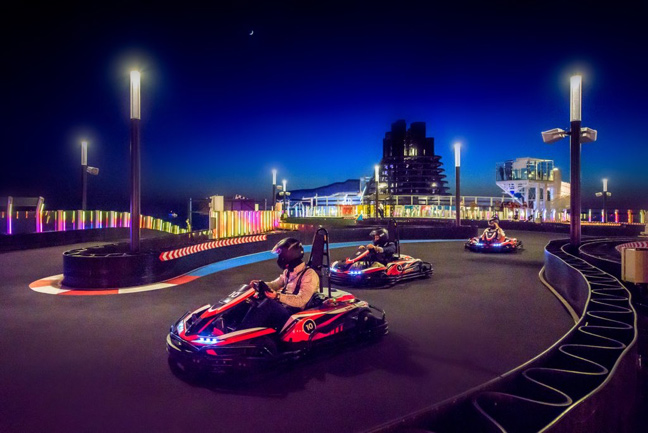 It's fast. It's fun. And it's educational.
Twenty-five 7th and 8th grade Juneau students will race go-karts on a go-kart track aboard the Norwegian Bliss, the newest and largest cruise ship to ever visit Juneau.
Cruise Lines International Association Alaska (CLIA Alaska), Travel Juneau, and Norwegian Cruise Line partnered to host an essay contest to educate young Alaskans about the positive contributions the visitor industry makes in Juneau. Students were asked to write a short essay about how the visitor industry benefits Juneau, like providing thousands of jobs and millions of dollars in municipal revenues.
"Our goals with the contest are to educate young Alaskans about economics and the vital role the visitor industry plays in Juneau's economy and have some fun while doing it," said John Binkley, president of CLIA Alaska. "The Norwegian Bliss was built specifically for the Alaska market and symbolizes the mutually beneficial relationship between the visitor industry and Juneau."
"In supporting this contest, we wanted to get kids thinking about the value of the visitor industry for Juneau and Southeast Alaska, as it contributes millions of dollars to our economy in terms of both jobs opportunities and revenues to our community," said Liz Perry, president and CEO of Travel Juneau. "The entire industry is a bright spot in Alaska's economy. We're excited to see the Norwegian Bliss and look forward to providing information services to its passengers."
The winning students will visit the Norwegian Bliss on June 26 for a ship tour, a pizza party and go-kart racing.