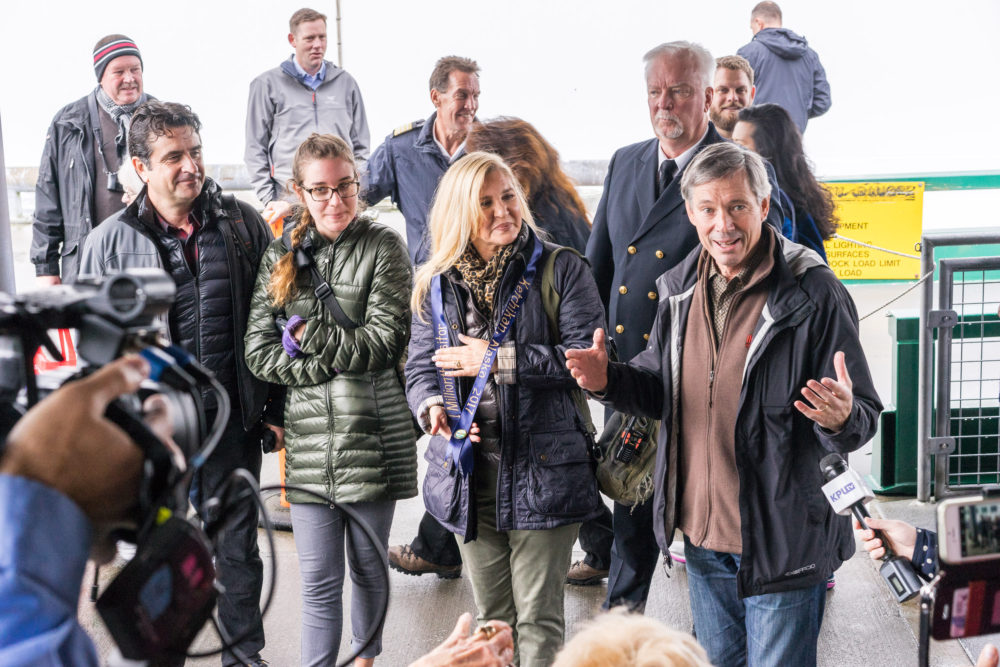 For the very first time, Ketchikan welcomed its one millionth cruise ship visitor in a single summer season, a sure sign that Alaska's cruise ship industry, and its tourism industry, are a vibrant and growing sector of Alaska's economy.
Candy Borda and family from Fort Lauderdale, Florida, arrived on Norwegian Cruise Line's Norwegian Jewel, which docked September 25 in Ketchikan. Borda and her husband, Fernando, were celebrating their 28th wedding anniversary on their Alaska cruise, alongside their children Hunter and Brooke.
Cruise Lines International Association (CLIA) Alaska President John Binkley was joined by local officials and residents of Ketchikan who surprised Borda and her family as they disembarked for the day.
"It is an honor for me to welcome you as our one millionth cruise ship passenger for the first time ever to Alaska's First City," said Binkley. "Ketchikan is a great partner and we are pleased to be a part of history here."
New Path Dancers greeted Borda, who received a special gift basket filled with Alaska-themed gifts and souvenirs from the Ketchikan Visitors Bureau and local gift shops.
The Ketchikan Gateway Borough and City of Ketchikan both issued proclamations for the occasion.
"Ketchikan has welcomed visitors traveling to Alaska by ship for over 100 years and we are excited to break a record today. One million passengers this summer is a milestone for our city," said City of Ketchikan Mayor Lew Williams III. "Ketchikan is proud of its reputation for friendliness and hospitality and looks forward to each and every visitor who steps off of a cruise ship."
Vice Mayor Stephen Bradford presented the Borough's proclamation. "The visitor industry plays a vital role in the economic wellbeing of the community of Ketchikan. We have invested millions of dollars in infrastructure, safety, and enhancements for our visitors and welcome our one millionth visitor with great enthusiasm. It's a very exciting time for Ketchikan."
New and larger ships, like Norwegian Cruise Line's 4,000-passenger Norwegian Bliss, specifically built for cruising in Alaska, will enter Alaskan waters for the 2018 season. Norwegian Bliss will be one of the 10 largest cruise ships in the world and is another sign of the significance that Alaska has for travelers from around the globe.
"The visitor industry is a bright star in Alaska's economy. It's booming," said Binkley. "It's wonderful to be able to show our great state, and Ketchikan, to over one million people annually and we look forward to another record-breaking year in 2018."