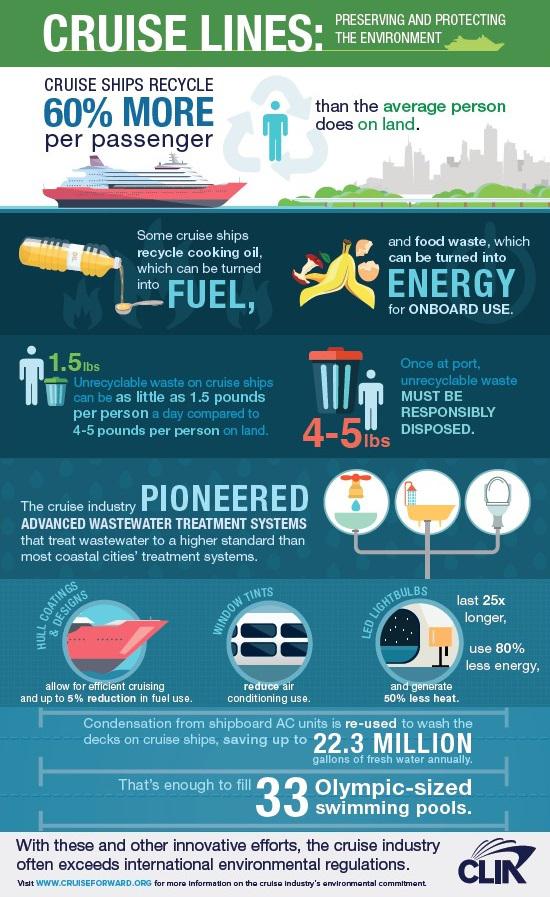 Cruise lines are transforming the modern fleet with new technologies and designs to protect the oceans, air and destinations that millions of cruise passengers enjoy each year.
"The cruise industry recognizes the importance of investing in innovative ship technology to preserve our environment and provide an eco-friendly travel experience," said Cindy D'Aoust, president and CEO, Cruise Lines International Association (CLIA). "And, with each new build, CLIA members raise the bar for developing environmentally friendly ships."
CLIA members are investing $1 billion in environmental technology, including technologies pioneered by the cruise industry, examples include:
Air-emissions reduction
Cruise lines continually innovate to reduce air emissions. One example is exhaust-gas cleaning systems (EGCS), which offer an innovative alternative to the use of low-sulfur fuels to satisfy emissions requirements and reduce the level of sulfur oxides in a ship's exhaust by as much as 98 percent. Cruise lines pioneered the use of this technology, and others, in the marine environment. (All the large ships that visit Alaska are equipped with EGCSs or burn ultra-low-sulfur diesel).
Advanced wastewater-treatment systems
In keeping with cruise lines' continual focus on best practices that often exceed regulatory requirements, CLIA ocean-going members have committed to not discharging untreated sewage anywhere in the world. Many cruise lines operate advanced wastewater-treatment systems (AWTS) to treat wastewater beyond the requirements of most waste-treatment facilities of coastal cities. (Large ships that visit Alaska can only discharge wastewater that meets drinking-water standards in state waters).
Solar panels
To improve fuel efficiency and keep cruising eco-friendly, some cruise lines use solar energy to power certain equipment. Since cruise ships spend significant time under the sun, solar panels are a logical source of supplementary energy for ships, as practical with a vessel's design. Installation of solar panels can generate clean power and decrease dependence on fuel-generated electricity to help run ship systems, including lighting.
Heating, ventilation and air-conditioning systems
Heating, ventilation and air-conditioning (HVAC) systems require significant amounts of energy. Since most CLIA members' itineraries involve warmer environments, the energy consumption of air-conditioning systems is an important target of ship-board efficiency efforts. Newer ship systems are designed to pump only the amount of chilled water required for the cooling demand, which results in significant energy savings.
Technologies for use of LNG as an alternative fuel
Cruise lines are launching ships powered by liquefied natural gas (LNG), eliminating soot particles and sulfur oxides, to reduce fuel consumption and CO2  emissions. For newly launched vessels, new dual-fuel engines allow for the efficient and effective use of multiple fuels, such as LNG and traditional fuel oils. Innovations in tank design and placement has also allowed for safe storage of LNG onboard. To date, seven cruise lines have announced plans to build up to 16 LNG-propelled cruise ships, with the first one expected in service in 2019. 
To learn more about the cruise industry's environmental stewardship, please visit: https://www.cruising.org/about-the-industry/research
Source: Cruise Lines International Association