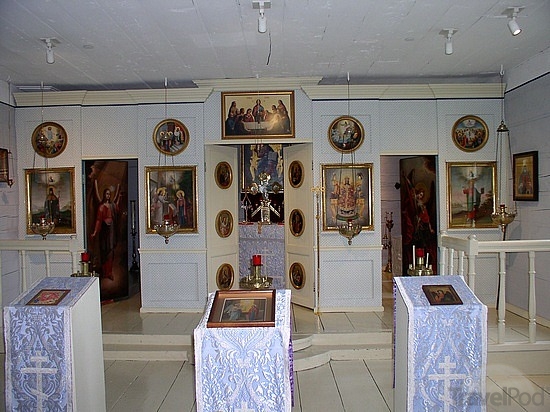 Built in 1843, during the "Golden Age" of Russian North America, this spacious, two-story building was home to Bishop Innocent of the Russian Orthodox Church. It was the center of Russian North America's cultural, educational and business ventures, complete with a formal reception hall, dining room, chapel, school and seminary.
Although it was a church building, the Russian American Company helped fund the house as a provision in their charter involved assisting missionary activities in Russian North America. Clearly, there was no separation between church and state in 19th-century Russia.
The house, built by skilled Finnish shipwrights, features square logs (as opposed to round ones used in "log cabins") as well as insulation, wallpaper, paint and fabrics.
The building was spared fire, but had fallen into disrepair and received a substantial renovation in the 1970s and '80s. It's 70 percent original today, but had to be jacked up from the inside during the restoration. It took 15 years to restore it, and the Park Service called upon the expertise of Russian and American craftsmen to help recreate wallpapers, furniture, fabrics and paint.
Over the years, the house's wood had cracked and split so much that residents had used paper as insulation and support. So during the restoration, workers pulled out paper, maps, letters, ledger books and even grocery lists!
There are ranger-led tours from May 15–Sept 15 ($4 admission fee). The ground floor includes exhibits dating from Russian America: sea otter pelts, samovar teapots and a replica of a Russian possession plaque found in Old Sitka.
The second floor houses the Chapel of the Annunciations, as well as guest rooms, a dining room, a formal reception room, and attendant quarters. The chapel has original icons, and the rooms include original pieces and reproductions.
Hours: 9 a.m.- 5 p.m. (daily – with tours every half hour)
Source: Alaska.org