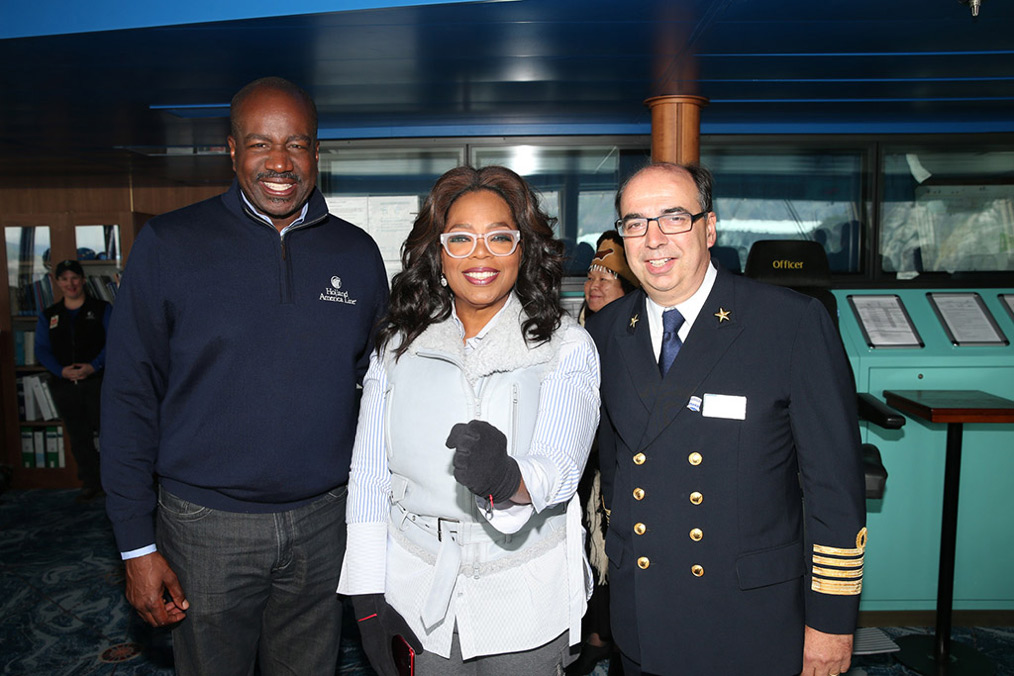 O, The Oprah Magazine Adventure Cruise, will be back next year following a "tremendous" first journey.
Holland America Line and O, The Oprah Magazine, Share the Adventure Cruise set sail from Seattle to Alaska on July 15, bringing together some of the world's foremost visionaries for a week of O-mazing talks and activities aboard ms Eurodam.
Oprah herself caught up with the ship in Juneau, where she went shopping, hiked the Mt. Roberts Trail and sampled an Alaska brew. She spent the day tweeting about her "amazing time" in Alaska.
Orlando Ashford, president of Holland America Line, greeted the star aboard the ship.
"The first cruise in our partnership with O, The Oprah Magazine, was tremendous; the energy and inspirational atmosphere on Eurodam was felt by all and truly something special," said Ashford. "The incredible caliber of talent and performances on the Share the Adventure cruise exceeded expectations, and we leave this week with a lifetime of memories and lessons on how to live your best life."
Oprah toured Glacier Bay before flying off in Sitka.
Onboard the Eurodam, guests took part in morning meditation with yoga instructor Sara Ivanhoe and explored eating well with Impatient Foodie founder Elettra Wiedemann. O, The Oprah Magazine Editor-in-Chief Lucy Kaylin and Editor-at-Large Gayle King shared a peek behind the scenes of the award-winning magazine, explaining how they bring the pages to life. Kaylin and books editor Leigh Haber each led conversations with Pulitzer Prize-winner and New York Times bestselling author Elizabeth Strout for the first-ever O's Reading Room, and Creative Director Adam Glassman shared fashion trends and practical styling tips on how to dress your best.
Three SuperSoul 100 members brought an incredible energy on board with their motivating and memorable stories. Guests journeyed into the worlds of fitness evangelist and motivational coach Angela Davis; best-selling author and Momastery.com founder Glennon Doyle; and singer, songwriter and storyteller India.Arie.
The July 15 cruise was the first of several special cruises with Holland America Line and O, The Oprah Magazine. Four additional Adventure of Your Life cruises with SuperSoul 100 Members (to be announced) will set sail as follows:
Nov. 29, 2017 – 11-Day Southern Caribbean Wayfarer roundtrip from Fort Lauderdale on ms Koningsdam.
March 3, 2018 – 7-Day Tropical Caribbean roundtrip from Fort Lauderdale on ms Nieuw Amsterdam.
Aug. 11, 2018 – 7-Day Alaska roundtrip from Seattle on ms Eurodam.
Oct. 28, 2018 – 7-Day Eastern Caribbean roundtrip Fort Lauderdale on ms Nieuw Amsterdam.