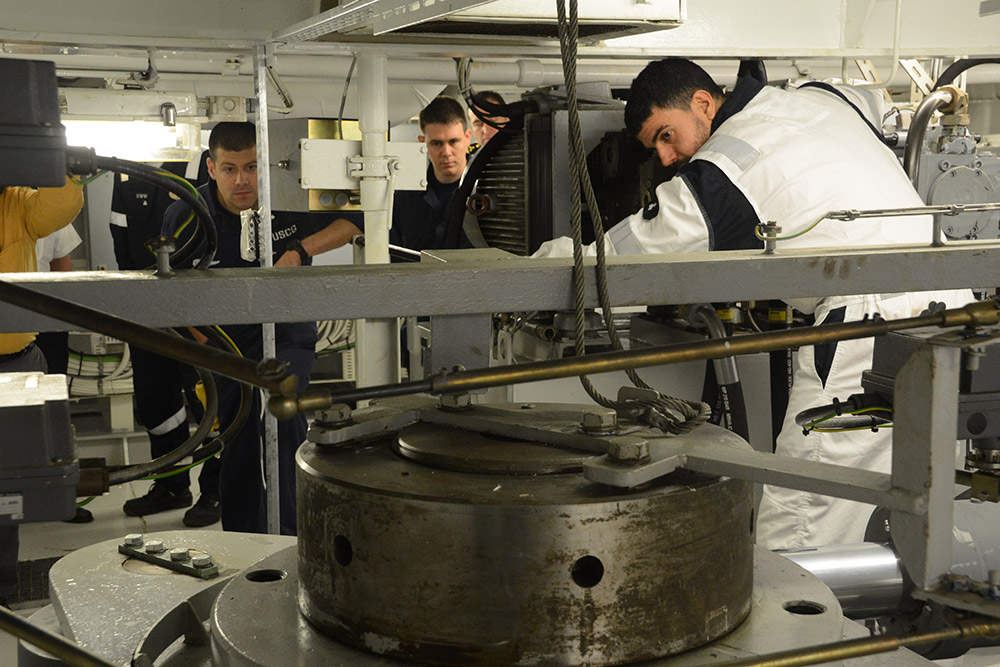 Southeast Alaska plays host to as many as 32 large cruise ships every summer, each carrying anywhere from a few hundred to several thousand passengers, and this revolving door of large passenger vessels through the Southeast's ports keeps marine inspectors especially busy.
"Cruise ship inspections are conducted, first and foremost, to assess safety," said Lt. Colin Schembri, a marine inspector with the Coast Guard Sector Juneau prevention department. "We look at the overall condition of the vessel, but we also want to gauge the crew's proficiency at carrying out the safe operation of the vessel."
Cruise ship examinations provide inspectors with an extensive view of emergency systems, engine and lifeboat operations and a crew's ability to conduct orderly and efficient safety procedures during simulated emergency situations. For an especially large vessel, an inspection can take up to eight hours to complete. A team of inspectors breaks up into several sub-teams allowing the inspectors to check multiple systems at once and relay information to their teammates when crew responders tasked with different jobs connect and work together.
"The amount of work and level of detail that goes into running the ship's operations is impressive," said Schembri. "On a turnaround day, the crew has eight hours to embark and disembark up to 2,000 passengers, offload and bring on up to 4,000 pieces of luggage and store enough food to sustain everyone aboard. That's a lot of work to add onto the task of making sure the ship's systems are functioning correctly and seeing that the vessel is safe to get underway, but an alert, well-trained crew coming together as a team can provide a lot of assurance to passengers should an emergency occur."
Coast Guard Sector Juneau is a multi-mission unit based in Juneau. The command consists of approximately 250 active duty, reserve, and civilian members with 10 field commands and detachments. Sector Juneau's personnel, under three main departments, Prevention, Response and Logistics, provide a vital Coast Guard presence in four strategic Southeast Alaska communities and conduct operations in over 20 remote areas and Native villages on over 2,000 islands and 10,000 miles of shoreline.
Source: Coast Alaska