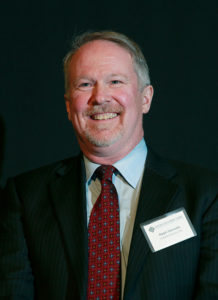 How to grow the pie
Ralph Samuels listed five ingredients important to increasing Alaska's share of the world cruise market:
Keep Alaska a good place to do business

Smart tax policies
Reasonable regulations
Educate policy makers on complexities/nuances of the cruise industry

Keep product fresh
Keep demand up
Keep costs down
Talk to us
While the demand for Alaska cruises remains high, the state should keep its course steady, according to Ralph Samuels, vice president, government and community relations, Holland America Group.
Speaking at the Resource Development Council's annual conference, Samuels said government needs to be a partner with the industry and adopt policies that encourage and support growth. In particular, he said, passenger fees should be used legally to support the infrastructure needed to manage industry growth.
It's also important to keep Alaska competitive with the world, he said. That involves regulatory stability and adequate marketing dollars, a challenge with the state's current fiscal situation.
As an example, Samuels said the 2006 cruise ship initiative "fundamentally changed the cost structure of the industry" and resulted in Alaska losing millions and millions of dollars and thousands of tourists. The number of visitors dropped by 15 percent.
On a bright note, Samuels said industry is working to meet demand for 2017 and that the outlook for 2018 and beyond is good. The luxury line Seabourn is returning to the state, Holland America is celebrating 70 years of operating in Alaska, the Amsterdam will call nine times on Anchorage, the Denali Square grand opening represents a $50 million investment and Princess is refurbishing 10 rail cars at a cost of $250,000/car.
"Good policy encourages growth," which is one reason Holland America decided to move the Oosterdam from Europe to Alaska next season. "That's 34,000 additional visitors," Samuels said, calling the decision to change a ship's itinerary with only six months' notice "highly unusual."
What goes into planning itineraries for ships? A lot, said Samuels.
Cost of port, guest satisfaction, port awareness/interest, shore excursions availability (breadth/quantity), port infrastructure, onboard experience, port balance, optimum cruise length, supplying ship/crew movement, regulations (Jones Act, crew rest hours) and port availability.
The visitor industry is a strong contributor to Alaska's economy, Samuels said, citing a Institute of Social and Economic Research project that found tourism added $54.3 million to the state's general fund while costing the state $36.8 million in expenditures, a figure that included $16 million in marketing dollars. Sixty percent of tourism revenues go to local governments.
Cruise visitors keep on giving, he said, as one-fourth come back as an independent traveler.