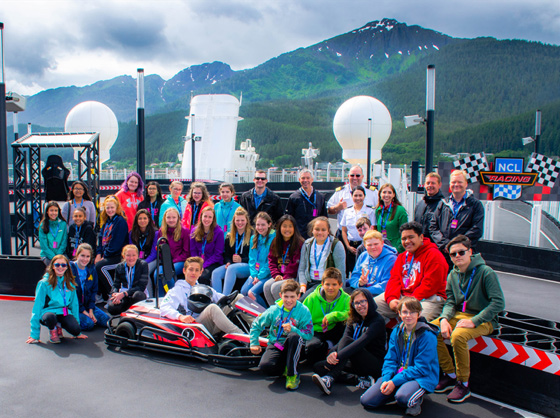 Juneau students who wrote essays on the benefits of the visitor industry for an essay contest touched on a common theme of jobs and support for the local economy.
"I want to personally thank the cruise ship companies for boosting our economy and making Juneau a better place to live. Over one million visitors come to Juneau Alaska each year. These visitors contributed $238 million dollars into our economy in 2016, which creates thousands of jobs," wrote one middle schooler.
"The tourism industry is a huge benefit to our community. It is one of the biggest taxpayers in town, provides 1,000s of jobs, directly influences the youth in Juneau, and supports recreational activities and local services. Without the visitor benefits we have today, Juneau would not be the same," wrote another.
Services such as police, fire and roads were highlighted as examples of how the $13 million in sales and property taxes supported by visitor spending support local services. Several students also recognized the importance those tax dollars play in supporting recreational opportunities for locals. Visitor taxes "help support recreational facilities such as the Diamond Park Field House where many athletes like myself practice year-round. One of the things I love to do is play softball outdoors and the fields are also funded by those taxes," stated a 7th grader.
Another student wrote, "Tourism is expected to keep growing. That means that we will continue to add jobs and money to Juneau. This helps keep our city growing and healthy. Besides, it's always a fun time of the year when the sun comes out, the cruise ships sail back to town and the downtown docks are alive with excitement and activity."
Norwegian Cruise Line, Cruise Lines International Association Alaska (CLIA Alaska) and Travel Juneau sponsored the essay contest for middle school students. Twenty-eight students won a trip aboard the Norwegian Bliss, where they enjoyed a pizza party and raced go-karts on the largest go-kart track at sea. According to local media, students and their parents explored the ship and its amenities while it was docked in Juneau on June 26.
Several of the students had personal stories to share. "For generations, my cousin and his entire family have been supported by their downtown store that is almost fully funded by tourist dollars," wrote one girl.
"When the mining company that my grandfather worked for shut down, he was left without a job. This motivated him to start his own business, the AJ Mine/Gastineau Mill tour. This tour allows visitors to explore an underground mine that ran from 1914 to 1921. … Because of the profit he received from this, my grandparents were able to support their family and stay in Juneau. This business became extremely successful and still is," wrote another.
Others appreciated the opportunity to get a summer job. "School gets out, tourists start showing up, and the visitor industry provides great summer jobs for the youth in our community."
"Thank you to all the students, teachers and partners who made this contest so successful," said Mike Tibbles, CLIA Alaska's director of government affairs. "It is great to see another generation so enthusiastic about the visitor industry and its important contribution to our local economy."