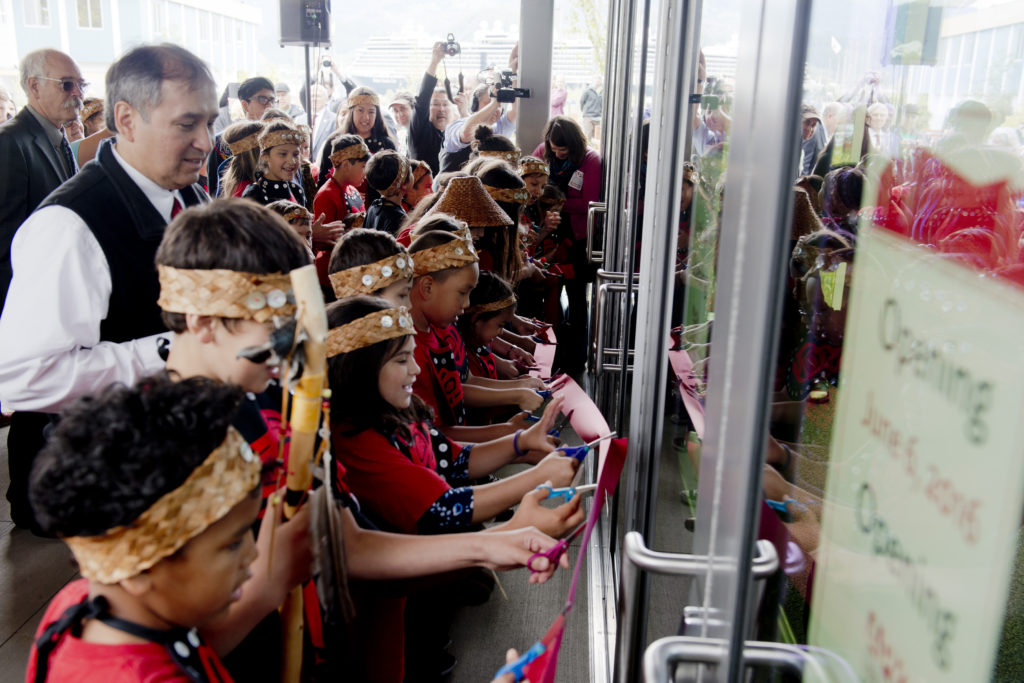 The Andrew P. Kashevaroff State Library, Archives and Museum, affectionately known as the "SLAM," officially opened June 5.  Hundreds of people filled the plaza outside the new building listening to speeches from state dignitaries and song and dance from the Harborview Elementary School Tlingit Culture and Language Literacy Program.
"This is a moment that will be marked in Alaska's history by what is happening today," Gov. Bill Walker told the crowd. "This building is absolutely phenomenal by what it represents."
The new building — which combines the services of the capital's museum, archives and library into one structure — is designed to last 100 years and is built on the same location as the former building, which was torn down in 2014.
The new building is named for the Rev. Andrew P. Kashevaroff, a scholar of Alaska Native and Russian descent who spent his life studying Alaska's diverse cultures before he died in 1940. He was the first curator and librarian for the state Division of Libraries, Archives and Museums. Click here for more.
SLAM factoids
Thanks to Suzanne Downing, here are some facts about the Andrew P. Kashevaroff State Library, Archives and Museum:
The building has:
11,740 cubic yards of concrete
1,978,000 pounds of rebar
More than 2,000 individual object mounts
74 mannequins
32,000 artifacts from the museum
30,000 cubic feet of documents from archives
10,000 cubic feet of collections and 100,000 books from the Historical Library
60,000 books from Information Services Library
Total work hours
More than 500,000 worker hours
Peak manpower of 111 workers
91 percent of the trade-worker hours were performed by Alaska residents
0 "lost time incidents" (accidents that made work stop)