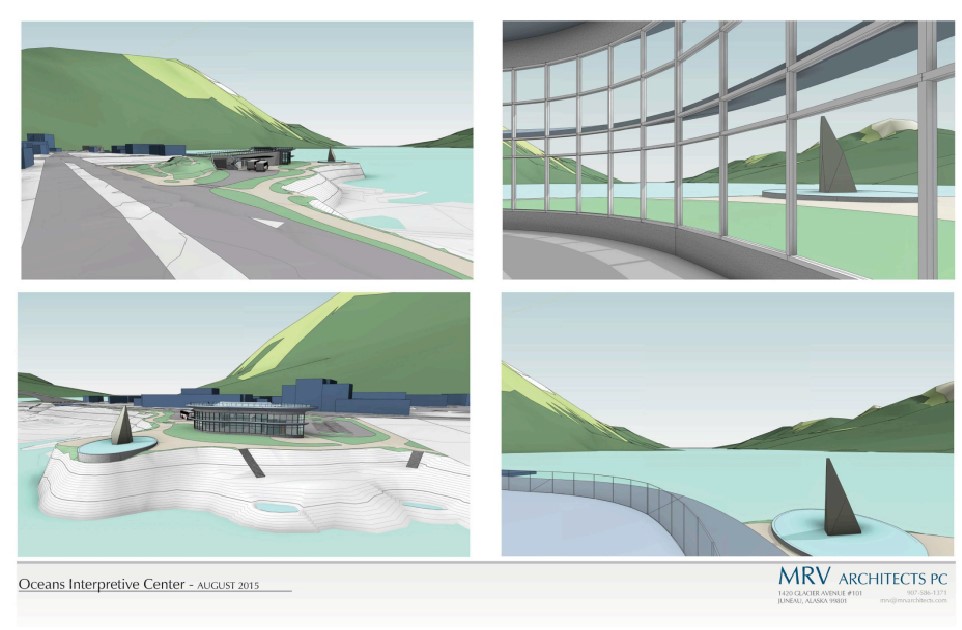 Editor's Note: This piece appeared in the May 27 issue of the Juneau Empire.
By Win Gruening
Plans for the proposed Juneau Ocean Center (JOC) continue to progress.
The project is being designed as a world-class facility to educate the public on ocean resources and to provide a spectacular venue for scientific conferences and community meetings. Equally important, it promises to be a public-private partnership model that will help Juneau to grow and diversify its economy.
The proposed 13,000-square-foot visitors center and research facility will be located on Egan Drive on filled tideland between the Alaska Mental Health Trust property (previously the old Subport site) and the now-abandoned Standard Oil dock owned by Avista. The facility will be owned and operated by a self-supporting, nonprofit entity focusing on ocean ecology of the Alaska Pacific. Features include a sloped, roof-top community park space over a curved front wall of glass facing Gastineau Channel and the mountains on Douglas Island.
Bob Janes and Dawn Wolfe, founders and owners of Gastineau Guiding in Juneau, Linda Nicklin, a Master Naturalist at Gastineau Guiding, architect Paul Voelckers and attorney Bruce Weyhrauch are the prime organizers behind the project. Negotiations are underway now to secure the site as well as explore necessary permits. A public meeting introducing the project and soliciting comments and ideas was held recently and was well attended by local residents. Fundraising through individual and corporate donations as well as private grants for the $14.2 million project is slated to begin later this year with the assistance of a national fundraising professional.
Downtown revitalization is one of the CBJ Assembly's top priorities. This project will expand the downtown core by tying into current and future waterfront improvements and the new State Library, Archives, and Museum (SLAM). Additionally, it will link to conferences and educational/cultural activities occurring in and around Sealaska Heritage Institute's Walter Soboleff Building, Centennial Hall and the proposed Willoughby Arts Complex.
The project is unique because it plans to be entirely self-supporting. Visitor admissions and concessions will fund ongoing operations as well as educational programs and activities. Projections indicate approximately 150,000 cruise ship passengers would need to visit the facility to cover annual operating costs.
The organizers are not asking city leaders for funding but will need their cooperation to integrate their project into the overall city waterfront plan. Portions of the city seawalk will need to cross over and provide access to the JOC site. The CBJ took the first step in December when the Assembly passed a resolution supporting the project.
In addition, a floating dock is planned for the site to accommodate an electrically powered marine vessel to move tourists to the site from the cruise ship docks. This would relieve parking requirements with the potential of eliminating up to 15 percent of downtown bus staging congestion, while not limiting tourists eager to take advantage of downtown shopping opportunities. The LEED-Platinum certified building will also highlight uses of alternative energy sources benefiting our planet's atmosphere and oceans. The dock potentially could also be used as a better lightering location for cruise ships anchored in Gastineau Channel and may help spur development of a small cruise ship and visiting yacht harbor in the Gold Creek area.
The JOC will add jobs to the Juneau economy — during construction and, upon completion, during its planned 12-month operating schedule — an important benefit as state and municipal budgets are further pressured by the effects of declining oil prices. Janes estimates the JOC will initially provide six full-time and 16 seasonal positions, with an anticipated 5 percent annual growth; mostly in research positions. After completion, the organizers intend to raise additional funds to secure a $10 million endowment to help support ocean-related research.
As a local resource, the JOC will further benefit our community in a variety of ways. For example, JOC will offer year-round ocean science programs to local schools, a picnic beach and tide pool setting to local residents, and help promote UAS attendance by highlighting ocean-related undergraduate and graduate programs.
By connecting with local education, cultural and science interests, the JOC is truly an economic opportunity for Juneau. By working together, the JOC organizers and the CBJ can create more than the sum of the parts, with a community hub in a central location that serves visitors and residents alike.
Clearly, this kind of cooperative effort between our local government and private and nonprofit entities can be a cost-effective model for other ideas that will help diversify and enhance our local economy.
Win Gruening retired as the senior vice president in charge of business banking for Key Bank in 2012. He was born and raised in Juneau and graduated from the U.S. Air Force Academy in 1970. He is active in community affairs as a 30-plus year member of Juneau Downtown Rotary Club and has been involved in various local and statewide organizations.