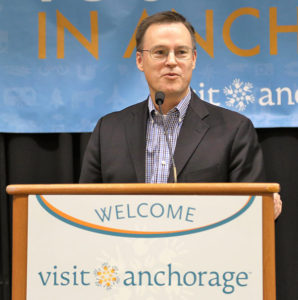 Like so many things in life, it all comes down to relationships. Some businesses develop relationships with their customers, but thousands of Alaskans call their relationship with Alaska's major air carrier, Alaska Airlines, more of a union.
Alaska Airlines Senior Vice President for External Relations Joe Sprague delivered an update on the airline's activities at the June Visit Anchorage luncheon that demonstrates Alaska Air's commitment to Alaskans. The "2020 Great Land Investment Plan" is a $100 million, three-part initiative for maintenance, facility upgrades and improved air-cargo service to be implemented over the next three years.
A new $40 million maintenance and engineering facility in Anchorage will have the capability to hold two 737 Max 9 aircraft and enlarge the airline's presence at Ted Stevens Anchorage International Airport. Eleven company-owned terminals across Alaska will undergo renovations that fully modernize them and make the process for boarding and departing flights easier for customers.
On the cargo side of the business, the big announcement was that three 737 Boeing aircraft will be converted into freighters. That translates into a 20 percent increase in overall cargo capacity for the rural communities Alaska Airlines presently serves. Seventy percent of its air-cargo business is in Alaska.
Sprague also spoke about the recent acquisition of Virgin America Airlines, which he described as a prudent business decision. "We felt we needed to be a bit bigger financially. We are now in a dominant position on the West Coast." The merger increases Alaska Airlines' footprint in California and makes it the nation's fifth largest airline.
The company is also active in the area of charitable giving. Alaska Airlines donated $3.7 million to more than 300 local charities last year, supports several educational events and programs, and is a major backer of Alaska's tourism industry through Visit Anchorage, ATIA, the Iditarod Sled Dog Race and the Visitor Industry Charity Walk.
Sprague ended his presentation on a personal note. After 17 years with Alaska Airlines, he will be leaving to take a position with the Washington State Catholic Conference.