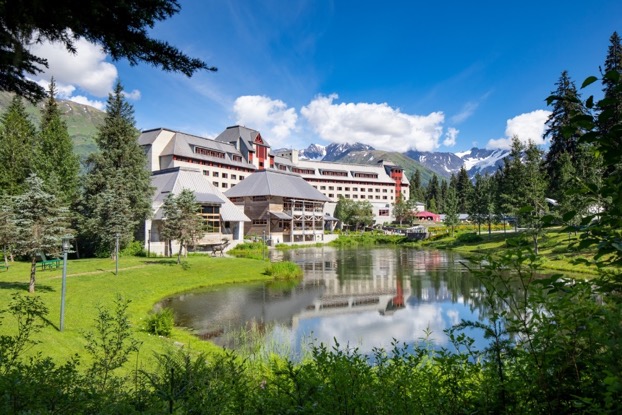 Alyeska Resort has entered into a contract to sell substantially all of its resort assets to Canadian company Pomeroy Lodging. The parties expect the transaction to close before year end.
Alyeska Resort is Alaska's premier, year-round destination, featuring The Hotel Alyeska, an award-winning 300-room, full-service property. Located just 40 miles from Anchorage, Alyeska Resort is base camp for summer and winter excursions. Founded in 1954, Alyeska Resort receives 669 inches of average snowfall annually, has 1,610 skiable acres served by seven lifts and the longest continuous, double-black-diamond ski run in North America.
Pomeroy Lodging is a full-service hospitality company with expertise in hotel development, construction and management. Based in Grande Prairie, Alberta, Pomeroy Lodging owns and operates 18 hotels in Western Canada, including the 408-room Marriott Autograph Collection and Pomeroy Kananaskis Mountain Lodge, which is located in the Canadian Rockies.
Pomeroy Lodging has received many prestigious awards over the years, including Intercontinental Hotel Group's Developer of the Year and Wyndham Hotel's Top Quality Award, but is most proud of being recognized as one of Canada's Top 50 Employers. Staying true to its core values of honesty, family, quality, industry and winning has guided Pomeroy Lodging along the path to this very exciting opportunity in Alaska.
Ralph Pomeroy founded the company in 1941 when he purchased a hotel in Fort St John, B.C. The Pomeroy Hotel became the cornerstone of where the business is today. Ralph's nephew, Bob Pomeroy, who also had a passion for business, inspired and changed the landscape of hospitality in the Peace Region of British Columbia for over 25 years.
The Pomeroys have owned and operated over 65 businesses, which comprise over 15 different brands.
The family legacy continues with the third generation, Ryan Pomeroy, who is bringing innovative and leading-edge hospitality to Western Canada. Having recognized the need for an extended-stay hotel in the market, he opened the first Pomeroy Inn & Suites in Grande Prairie in 2004 and, since then, Pomeroy Lodging has seen tremendous growth.
In 2010, Pomeroy Lodging LP (PLLP) was formed to restructure and combine assets that were previously operated as separate legal entities under one limited partnership. This restructuring has allowed for streamlined operations of the four proprietary brands: Pomeroy Hotel & Conference Centre, Pomeroy Inn & Suites and Stonebridge Hotel.