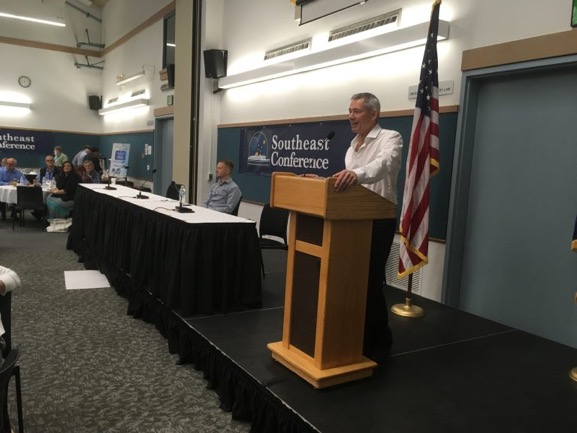 By Leila Kheiry
For the second year in a row, the visitor industry is Southeast Alaska's largest private-sector employer. Tourism added more jobs in 2017, and will continue growing into the foreseeable future.
The annual Southeast By the Numbers report by Rain Coast Data's Meilani Schijvens was presented last week during the Southeast Conference annual fall meeting, held this year in Ketchikan.
The visitor industry, driven largely by cruise tourism, is one of the few bright spots Schijvens reported.
While many other industries are in a slump, she said, the overall report is a little better than last year's, when "Jobs were down, earnings were down, population was down. These are the top-three indicators that you use when you're looking to measure the health of an economy and a community, and they were all down, and they were down by a lot. So, basically we earned an F last year."
This year's report shows that jobs were up and earnings rose overall. Population, though, dropped again.
"We're actually up 380 jobs, but down 900 people," Schijvens said. "In the past, these numbers have been pretty equivalent with each other. So, what we're seeing now is a shift to an increasing number of jobs held by non-residents."
That brings us back to tourism, which is a primarily seasonal industry, and employs many people who leave when that season ends.
Schijvens said tourists love Southeast Alaska and are flocking here in larger and larger numbers. The majority – 80 percent – are coming on cruise ships.
John Binkley is president of Cruise Lines International Associations Alaska. He also spoke to Southeast Conference, and gave updated numbers for next year's cruise season.
Binkley said this year is the third record-setting season in a row in terms of cruise passenger numbers, and next year will be another. He said Southeast can expect 25 percent more passengers in 2019.
One reason for the growth is larger ships entering the market. This year, the Norwegian Bliss was the first and only mega ship visiting Alaska.
"We're going to see more of these ships next year," Binkley said. "We're going to see three additional neo-Panamax ships coming to Alaska next year."
Those will be the Norwegian Joy, the Royal Princess and the Ovation, a Royal Caribbean vessel., and will be in addition to the Bliss. Updated numbers show 40,000 more passengers than previously estimated for 2019.
"Our preliminary projections now are 1,361,400 passengers: Another all-time record that we're going to hit next year," he said.
Binkley said accommodating that many people will be challenging for some ports. But, he said, more people mean more jobs in the industry, more port fees, and more money overall spent in Alaska.
While it's the largest and most visible, the visitor industry was not the only one to rise in Southeast. Schijvens reported that health-care employment, and government also were up, along with mining.
She says fishing, timber and construction employment all fell in Southeast.
Here is a PDF of Southeast By the Numbers: Southeast Alaska by the numbers 2018
Source: KRBD