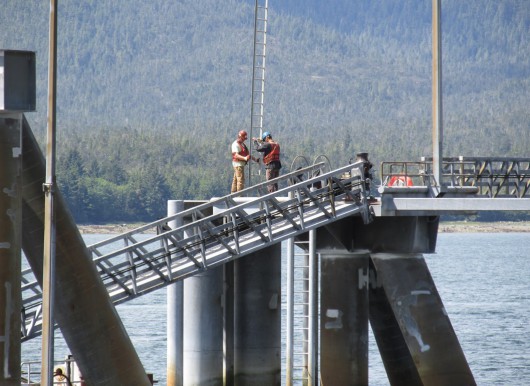 A berth damaged on June 3 when the cruise ship Infinity slammed into Ketchikan's downtown dock has been repaired and began taking ships again on June 29. City of Ketchikan Port and Harbors Director Steve Corporon said Turnagain Marine Construction finished the initial repair work and removed the repair barge June 28.
Corporon said the contractor had finished testing connections and stress points on parts of Berth 3 that weren't obviously damaged.
"To make sure there wasn't any hidden damage," he said. "So that was good news: that the damage we saw was the only damage there really was."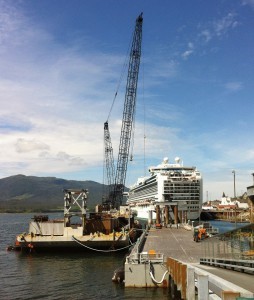 That damage included mooring dolphins, electrical connections and a catwalk that was partially knocked into the water.
Corporon said overall damage to Berth 3 would have been much worse if Pool Engineering hadn't been able to respond before a big tide change. That local contractor was able to stabilize the structure.
Turnagain was hired later to do the bulk of the repairs and finished early before a six-ship day. "We're already going to be tendering in passengers from two ships. We really don't want to have to tender in passengers from a third ship that day," Corporon said.
With Berth 3 out of commission, some ships that had been scheduled to dock used tenders – small boats – to bring passengers to shore. That takes longer, so it cuts down on the time those visitors have in town.
Repairs to the berth will cost the city about $2 million. Insurance will cover much of that cost. Corporon said the U.S. Coast Guard and National Transportation Safety Board are investigating the incident, but a report isn't likely for quite some time.
Corporon said weather could have been a factor in the accident.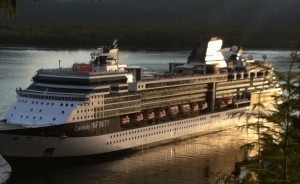 "I would assume that the fact that it was very windy that afternoon was a major factor," he said. "The ship's and the crew's and the pilot's response to that is probably what they're looking into."
While the berth is now available for use, repairs aren't 100-percent complete. Corporon said some finishing work will continue throughout the summer.
Source: Leila Kheiry, KRBD