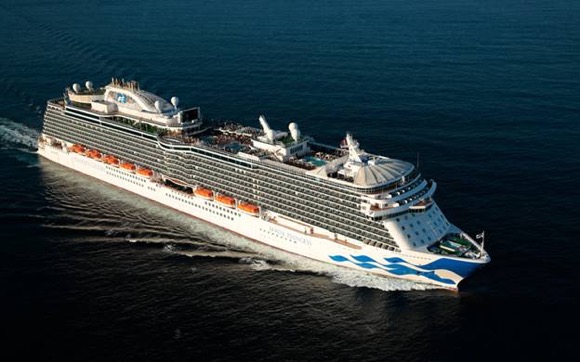 Princess Cruises will celebrate 50 years in Alaska next year, offering nearly two dozen land-and-sea tour options and bringing seven cruise ships to the state between May and September.
The company's largest Alaska deployment to date features the introduction of the Royal Princess, a 3,600-passenger vessel that will be the largest Princess ship to sail in the state. It's currently on tour in the British Isles and will operate in Canada, the Caribbean, South America and Mexico on its way to a 2019 Alaska debut.
"Royal Princess will offer more space on board, more balcony cabins – which are fantastic for viewing the glaciers – and more entertainment and dining venues," said Lisa Syme, Princess Cruises vice president. "The announcement of Royal Princess entering service in Alaska has been really well received by travelers and agents alike. There's excitement about a ship its size servicing the region and the added onboard offerings that she brings to guests."
Princess Cruises' full 50th anniversary roster includes opportunities to explore Denali National Park, the cities of Fairbanks and Anchorage, Alaska's Inside Passage and beyond.
Cruise-only excursions make round-trip departures from Vancouver, Seattle, San Francisco and Los Angeles, while one-way cruises begin in Vancouver or Anchorage. Sample activities include a Cook My Catch culinary experience, where guests enjoy the fish they caught during the day for an evening meal, and Puppies in the Piazza, which connects travelers with sled-dog puppies brought on board.
Cruise guests can also take in flightseeing trips, cultural tours, wildlife adventures, gold rush history and other experiences.
Approximately 75 percent of Princess' Alaska voyages visit Glacier Bay National Park.
"We continue to see increased interest in visiting Alaska to see the glaciers. It's one of the top three reasons that people visit, along with wildlife watching and Denali," said Syme.
Four categories of Princess' Alaska Cruisetours combine seven-day cruises and three to eight nights on land. Those packages incorporate rail journeys and overnight stays in one of five Princess Wilderness Lodges, including two that opened new restaurants in 2018. Rod & Reel at the Kenai Princess Wilderness Lodge and North Fork at the Mt. McKinley Princess Wilderness Lodge now serve local seafood and Alaska fare.
"With the diversity of the Alaska experience, guests can return to the destination numerous times. Each time, they'll experience something completely different," Syme said.
This season, the company added opportunities to visit the Mt. McKinley Princess Wilderness Lodge treehouse, a custom-built destination created in conjunction with the Animal Planet show "Treehouse Masters."
Guests access the treehouse via a short hiking loop, and views from the solar-powered, 500-square-foot venue extend across the south face of Denali. Activities at the treehouse range from Sourdough Expedition talks with author, world record holder and amputee mountain climber Todd Huston, to Sappy Hour events that feature birch syrup tastings and educational sessions.
Source: Travel Weekly