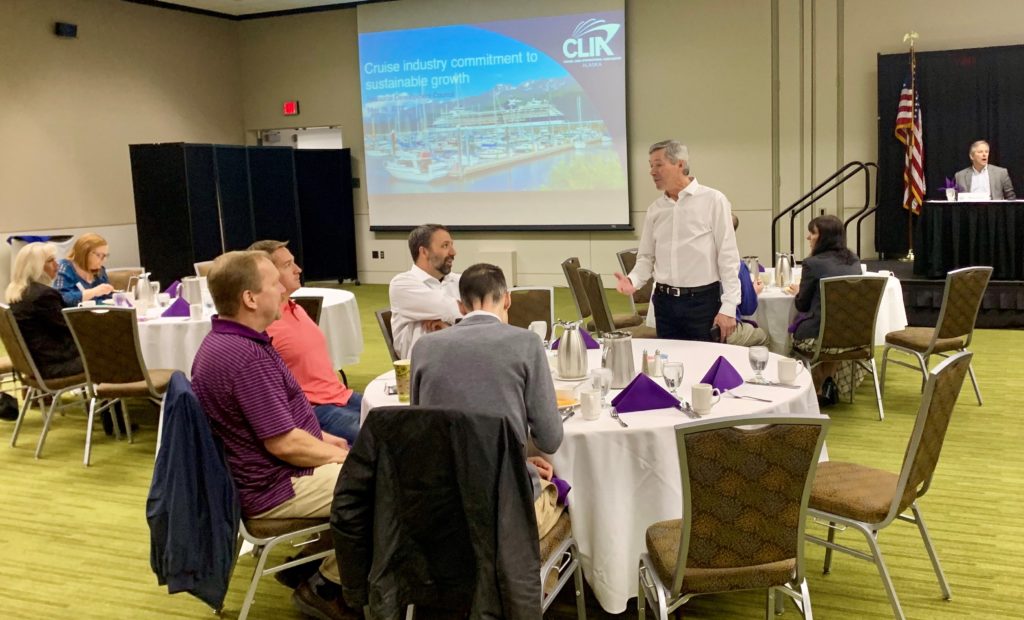 On the day the first cruise ship of the season arrived in Anchorage, CLIA Alaska President John Binkley reminded a packed house at a Resource Development Council (RDC) breakfast that the leaves and grass aren't the only things that turn green in the summer – so do cash registers.
The more than 1.3 million cruise ship visitors arriving in Alaska communities this season are projected to spend $2.8 billion, with $269.45 million coming from the five largest ships calling on the state.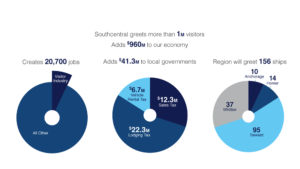 Binkley's presentation highlighted the tremendous growth in Alaska's cruise industry over the past three years. Much larger ships now service the Alaska market and the number of voyages has increased by 80, with a 41-percent increase in cruise passengers crossing the Gulf of Alaska. The cruise industry is also growing on a global scale, with 18 new ships entering the market in 2019 and 124 ships with purchase orders currently in ship yards.
Binkley then switched to the question on everyone's mind in the room, "how do we sustain growth in Alaska and take advantage of the industry's growth on a global scale?"
The key to sustainable growth is twofold, he said. "We must improve the quality of life in communities we visit and protect the seas we sail."
Examples of improving communities include the industry's commitments in Alaska such as Carnival Corporation's investment in the White Pass and Yukon Route Railroad in Skagway and Norwegian Cruise Line's partnership with Huna Totem Native Corporation at Icy Strait Point to build a dock that can accommodate larger cruise ships. These investments signal the lines' long-term pledge to the state and their projection that Alaska will remain a popular visitor destination.
In addition to investing in local infrastructure, the cruise industry has more than 22 years of successful community engagement through the Tourism Best Management Practices (TBMP) program in Juneau. The TBMP provides an avenue for the public to comment on the effects of visitors on Juneau and then provides recommendations to the industry on how best to mitigate and address these effects. Additionally, the cruise industry is actively engaged with the City and Borough of Juneau and other municipalities to find the best ways to use ship fees to support local services. All of these efforts seek to improve the quality of life for Alaskans.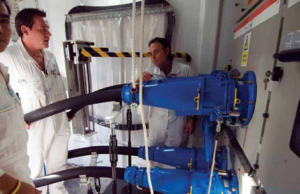 Binkley reiterated the cruise industry's commitment to the environment and explained that member lines are reducing their environmental impact by improving air quality, treating and recycling waste water and reducing on-board waste. To improve air quality, the cruise industry has invested more than $1 billion in Exhaust Gas Cleaning Systems, also known as scrubbers. The scrubbers remove up to 98 percent of sulfur from ship emissions and reduce nitrogen oxides by 75 percent and remove up to 80 percent of particulate matter. Cruise lines are also reducing emissions by employing new technology to fuel and power ships. For example, some ships in Juneau can connect to shore power. Alaska will welcome the first hybrid ship this year that can partially operate on batteries. Of the 124 new-build ships, 34 percent will rely on LNG as its primary fuel.
To treat and recycle waste water, Binkley noted that CLIA Alaska and its member lines worked with the Alaska Department of Environmental Conservation to set the gold standard for water treatment. Cruise ships in Alaska now have advanced waste-water treatment systems that clean water to a higher standard than most coastal cities' systems.
The industry is reducing on-board waste by eliminating excess packaging, recycling 60 percent more and incinerating what it cannot recycle. Waste that cannot be incinerated or recycled is offloaded to approved facilities.
Cruise lines' efforts result in less than 1.5 pounds of waste per day per passenger, compared to an American's on-land average of 4.5 pounds of waste per day.
You can view Binkley's PowerPoint presentation here.