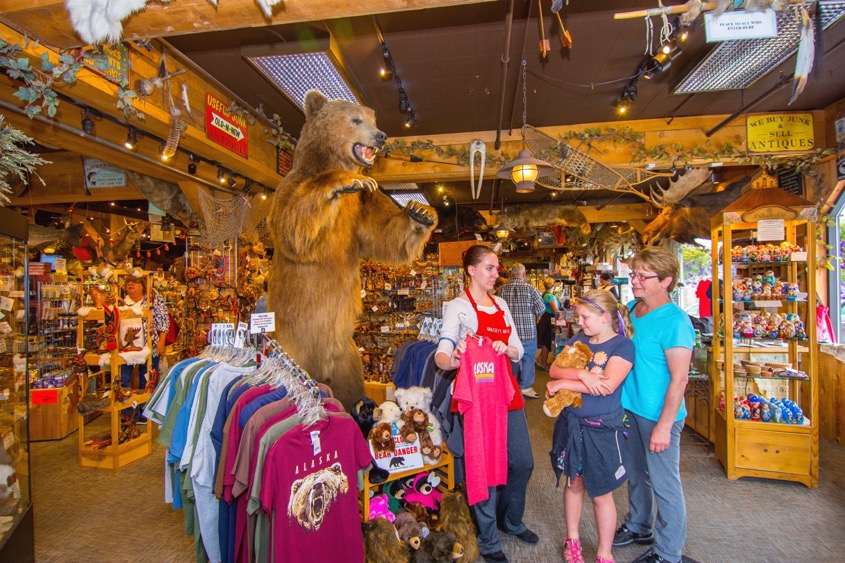 Anchorage's leisure and hospitality sector averaged 17,300 jobs in 2018, a slight increase from 2017. Two-thirds of employment in the sector is in food service, while accommodations account for 20 percent, and arts/recreation account for the remainder, according to the 2019 Economic Forecast for Anchorage.
While 2018 saw a slight increase in leisure and hospitality employment, other indicators for the sector were mixed, according to the report from the Anchorage Economic Development Corp. (AEDC):
Through October of 2018, passenger enplanements (boarding) at the Ted Stevens Anchorage International Airport totaled 2.4 million, a 3.1 percent increase from the same period in 2017.
Deplanements were also up 2.6 percent.
Much of the increase in airport passenger traffic is attributable to increased "cross-gulf" cruise traffic, which jumped 22 percent in 2018. Cross-gulf passenger volume increased from 319,000 in 2017 to 389,000 last year. (Note that a small portion of these passengers flew via Fairbanks).
Anchorage room tax revenue through the first two quarters of 2018 was down by 1.6 percent from the same period in 2017. (Third-quarter data is not yet available).
Anchorage vehicle and RV rental tax revenue increased by 2.7 percent between January-June 2017 and January-June 2018.
The number of conventions and meetings in Anchorage fell between 2017 and 2018, from 441 to 349.The number of sporting events likewise declined, from 47 to 42, and the number of trade shows fell from 47 to 36.
Anchorage received 11 direct cruise ship calls in 2018, up from 10 calls in 2017.
The outlook for this sector is for further growth, as cruise lines plan additional expansion in Alaska, and resident spending rebounds due to stabilizing economic conditions. In 2019, AEDC expects Anchorage's leisure and hospitality sector will average 17,500 positions, an increase of 200 jobs (1.2 percent) from 2018.
Statewide, cruise passenger volume is projected to increase by 16 percent in 2019.This growth will certainly translate into additional Anchorage visitors, as about one-third of statewide passengers travel to Southcentral.
Air carriers are expanding flights into Anchorage in summer 2019, with capacity increasing by 45,000 seats. Airlines including United, Delta, Sun Country and Air Canada plan to use larger planes, and/or fly more frequently. Allegiant entered the marketplace in May seasonal nonstop service from Bellingham, Washington. New international flights (including connections to Harbin, China) are also planned for 2019.
Expectations for the 2019 convention market are optimistic, with the number of events expected to increase from 2018. Key convention bookings for 2019 include the National Veterans Golden Age Games (1,200 participants), Association for Computing Machinery (1,000 participants), International Association of Women Police (800 participants), and the American Ornithological Society (500 participants).
Anchorage anticipates 10 direct cruise ship calls in 2019, including one call from the Queen Elizabeth, a 2,500-passenger vessel visiting Alaska for the first time.
You can read the full report here. http://aedcweb.com/wp-content/uploads/2019/01/Econ-Forecast-Report-2019_v5.pdf