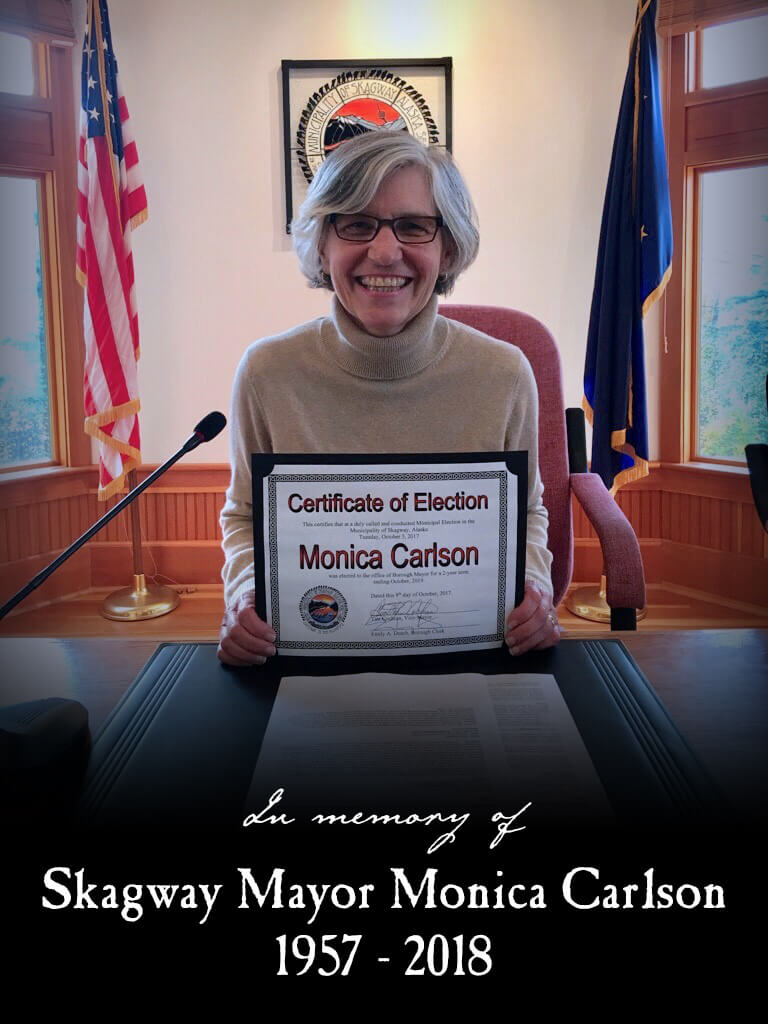 Alaska mourns loss of Skagway Mayor Monica Carlson
The cruise industry lost a dear friend Dec. 19 when Skagway Mayor Monica Carlson, 61, and her mother were struck by a motorcoach in a Washington, D.C., crosswalk. The crash happened near the National Archives.
The mayor and her mother, Cora Louise Adams, 85, were sightseeing and had toured the White House earlier in the day.
"The loss of Monica Carslon is heartbreaking to her family, to her community and to humanity. She was very skilled at her many roles and, through them all, she always cared about people. She was a wonderful human being who contributed to making us all better," said John Binkley, president of CLIA Alaska.
A Skagway resident of 34 years, she also worked as Director of Tour Operations for the Skagway Streetcar Company. Carlson was Skagway's second female mayor and beat the two-time incumbent mayor as a write-in candidate in 2017. She had one year left in her term. Carlson served on the assembly before she served as mayor.
Steve Hites, owner of the Skagway Streetcar Company, is Carlson's brother-in-law. He remembers her as a loving wife and mother, with a great sense of humor. "I can't imagine someone who cared more about her friends, her neighbors and her colleagues," Hites said. "And she was humble about it. She was caring. And she was totally honest."
"The whole town is shocked, saddened and grieving," said Skagway Assemblyman Orion Hanson. "I don't know that we've really digested it yet. I think a lot of people are still finding out. It's a true loss for Skagway. Have to grieve on it and move forward," he said.
Senator Dan Sullivan offered to help in any way possible and stated, "Julie and I share our deepest condolences with the family, the community of Skagway and all those who knew Mayor Carlson and her mother. We stand by to offer any assistance we can."
Sen Lisa Murkowski, who also has experience as a write-in candidate, said she met Carlson one busy summer day in Skagway.
"Here she is on a Saturday afternoon, standing up in her office. It was one of those conversations where we talked about all the business of the city and the issues," Murkowski recalled, referring to a photograph.
"Skagway, even as a small town, has some issues that divide them. She was really working very hard to knit together the differing views in a small community," Murkowski said. "Everyone has to live with one another and work with one another. And she just seemed so perfectly suited to do just that. So our hearts are very heavy for the people of Skagway."
Gov. Mike Dunleavy called out Carlson's dedication to the residents of Skagway and her pride in being a resident. "Skagway's loss is Alaska's loss," the governor said. He directed that all flags fly at half-mast Jan. 1 in her honor.
Rep. Don Young recalled her focus as a devoted public servant and said, "Anne and I are praying for the Carlson family and the city of Skagway during his difficult time."
"Mayor Carlson cared deeply about Skagway. The love she had for her community and its well-being was faithfully reflected in her time as a devoted public servant," said John Springsteen, CEO of the Alaska Industrial Development and Export Authority (AIDEA).
AIDEA has a long-standing relationship with Skagway through its ownership of the Skagway Ore Terminal.
The city does not yet have plans for a remembrance. Carlson is survived by Robert, her husband of 34 years, and her son, Maxwell, a U.S. Marine serving in Florida. Carlson and her husband lived in Skagway since 1988.