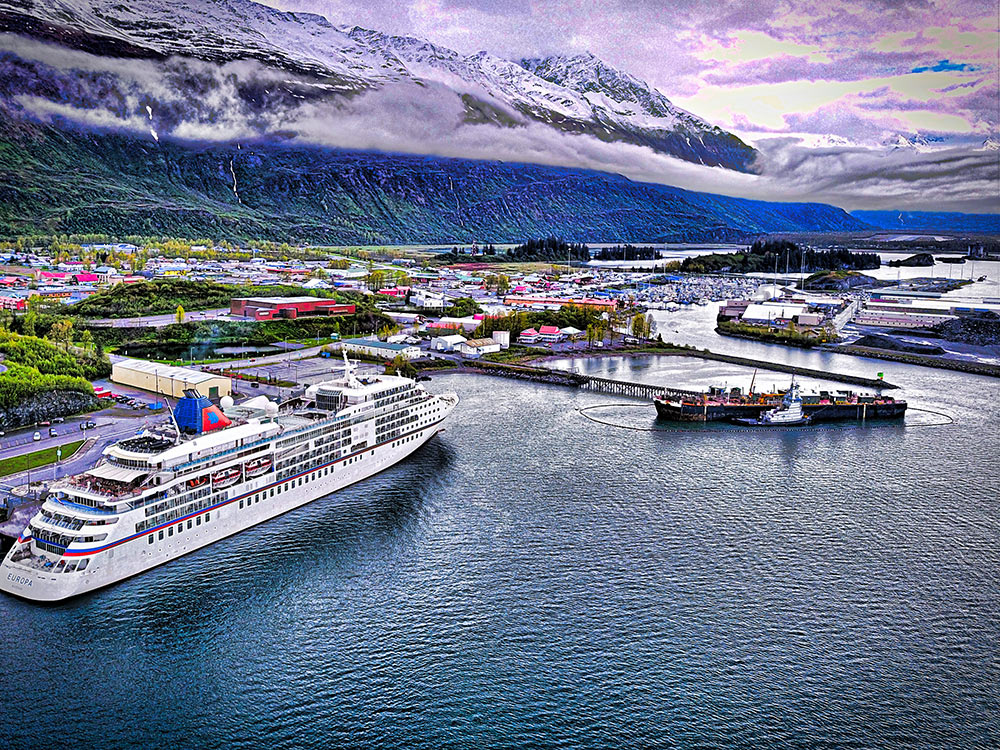 Valdez meets challenge to redefine itself as an interesting cruise port
As Alaska's cruise industry continues to grow and more lines add the 49th state to their itineraries, it opens new opportunities for coastal communities. The Prince William Sound community of Valdez is a prime example of how planning for the future with smart infrastructure upgrades and a slate of new excursions that create memories for a lifetime has paid off by luring two cruise lines to make regular calls in 2019.
About 15 years ago, Valdez and its 4,000 residents watched cruise ship traffic drop off, bypassing their cruise ship dock for other coastal towns that offered visitors more things to do.
The decline was dramatic. At the peak in 1995, Valdez welcomed more than 70 cruise ships.
Then the slide began: 67 cruise ship visits in 1996, 62 in 1999, 47 in 2001. Holland America decided to change its itinerary in 2002 and Carnival followed in 2003.
Last year, one ship called and here's how the local newspaper, the Valdez Star, described the visit:
"Helicopters took to the air, kayakers put oar to water and vendors took to the street Monday as Valdez welcomed a rare visitor to its shores – a cruise ship.
"The MS Europa – billed as the "most beautiful yacht in the world" – laid anchor at the Kelsey Dock Monday morning and its passengers set out to see the sights."
The city of Valdez hired Anchorage-based Northern Economics to study what had gone wrong and what could be done to turn things around. The report cited a failure to offer cruise ship companies a sufficient variety of shore excursions and retail goods for passengers.
The Northern Economics report also said one of the main attractions for cruise ship passengers was the pipeline-terminal tour, which was halted soon after the Sept. 11 terrorist attacks.
Realizing it had to remain competitive with other locations vying for cruise ships, Valdez had to up its game to attract the cruise visitors it once greeted each summer.
A 24-month comprehensive redevelopment plan and branding effort is in full swing. Significant improvements to the Kelsey Dock will be done this year to be ready in time for the 2019 cruise ship season. Those improvements include a covered waiting area, restrooms and interpretive displays. The dock is located a half-mile from downtown Valdez and buses will be available to shuttle passengers to and from downtown. A floating dock located a few miles away will be available for berthing larger ships.
The hard work paid off! In 2019, Holland America's 1,500-passenger Maasdam will make three port calls and Viking Ocean Cruises brand-new, 930-passenger Orion is scheduled to visit eight times.
"We have dedicated a great amount of time to bringing cruise ships back to the Port of Valdez and the momentum is evident, said Jeremy Talbott, Ports and Harbor Director for the City of Valdez. "We're here to accommodate vessels and passengers and to create a memorable welcome for visitors to this very special region of Alaska, the gateway to Interior Alaska."
Valdez businesses are also meeting the challenge by diversifying the excursions offered to passengers. Adventures on and off shore are available for all ages at a range of price points to meet every budget.
"It is wonderful to see Valdez added to next year's cruise itineraries," said Colleen Stephens, president, Stan Stephens Glacier & Wildlife Cruises. "As a smaller community in coastal Alaska, we have many stories to tell and natural sights to share with travelers waiting to experience our corner of Alaska."
The city of Valdez received $65,353 in cruise ship passenger-tax revenue between FY 2007 and FY 2016, and those funds were invested in waterfront revitalization.
Rafting, trekking, kayaking, cruising – Valdez offers it all
Valdez seriously upped it game when it comes to excursions suitable for families to adventurers and just about everyone in between. Here are 10 great examples, in no particular order.
Top 10 attractions
History and Culture -This small town is home to three notable museums. The Valdez Museum, located in downtown Valdez, tells its history, beginning with Alaska Natives who originally occupied the region to the early settlers who arrived centuries later. The impact of the Gold Rush and the Trans-Alaska Pipeline System are also explained. The Remembering Old Town Valdez Exhibit focuses on the 1964 earthquake, which forced the town to move. It contains a miniature recreation of Old Town Valdez. The Maxine & Jesse Whitney Museum hosts one of the largest collections of Alaska Native art and artifacts in the world.
Solomon Gulch Fish Hatchery – The largest single-species fish hatchery in North America raises 250 million pink and silver salmon each year. Visitors can witness salmon returning to the hatchery after years out at sea, and, if the season is open, watch commercial fishing boats haul in nets loaded with salmon. This is a terrific opportunity to teach visitors from around world how Alaska manages its sustainable fisheries.
Helicopter tours – VS Helicopter Tours fly between 20 minutes to an hour and feature waterfalls, wildlife or a journey to Columbia Glacier. Watch the uplifting videos here.
Sea kayaking – Picture this: You, in a kayak, paddling across the immaculate waters of Prince William Sound. Your companions are icebergs, marine mammals and seabirds. Two companies in Valdez offer that experience with guided trips from three to six hours long.
Whitewater rafting – Float the rapids in Keystone Canyon on the Lowe River with an experienced guide. If the water is moving fast enough, listen for boulders turning downstream with you!
Glacier trekking – Walk on ice formed thousands of years ago at Worthington Glacier in Thompson Pass, a short drive north of Valdez.
Sport fishing – Alaska is paradise for sport fishermen. Half-day fishing charters are available for silver salmon. The clear blue, ice-cold waters surrounding Valdez are teaming with these feisty fish.
Thompson Pass and Worthington Glacier Tour – Ride in comfortable buses on a 2.5-hour tour to view the sights of the Chugach Mountains, Thompson Pass, Worthington Glacier State Park and the waterfalls of Keystone Canyon.
Glacier and wildlife boat tours – Choose a three or six-hour trip and visit glaciers, watch wildlife and other scenic wonders offered by day-cruise operators in Valdez. These smaller ships give passengers a more intimate experience in Prince William Sound.