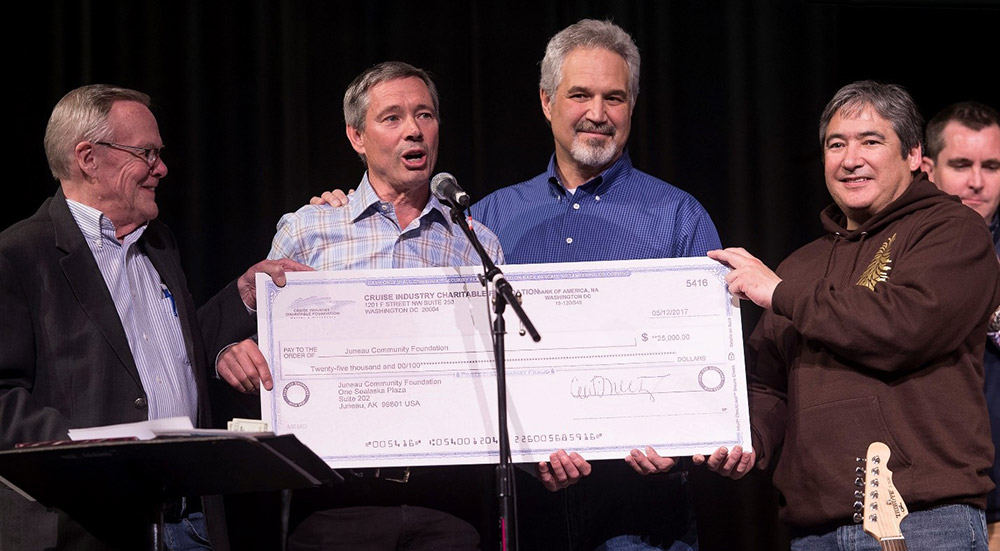 Cruise Lines International Association Alaska President John Binkley presented a check for $25,000 to the Juneau Playground Fund last week from the Cruise Industry Charitable Foundation (CICF).
The donation was made during a fundraiser sponsored by Senator Pete Kelly, which raised the $100,000 needed to meet the insurance deductible for the playground. The popular playground was destroyed in a fire April 24.
"We want to thank Juneau for being such great partners with the industry and are pleased to contribute to the reconstruction of the playground," Binkley said. "Juneau is a great destination, and we hope with this donation, Juneau will be able to rebuild a fun, family-orientated destination for itself."
The City and Borough of Juneau's insurance policy will cover the rest of the rebuild, which is expected to exceed $1 million. Various organizations around the state, including BP Alaska ($25,000) and Alaska Airlines ($10,000), have donated money to the rebuilding project.
Project Playground compromises one-half acre at Twin Lakes Park and was a result of a combined effort of grassroots organization, nonprofit volunteers, businesses and the City and Borough of Juneau. More than 1,500 neighbors came together and worked more than 17,000 hours to construct the playground over a three-week period. Planning and fundraising took place over a two-year period. Funds were raised by the Project Playground Volunteer Committee from generous contributions by individuals, businesses and foundations.