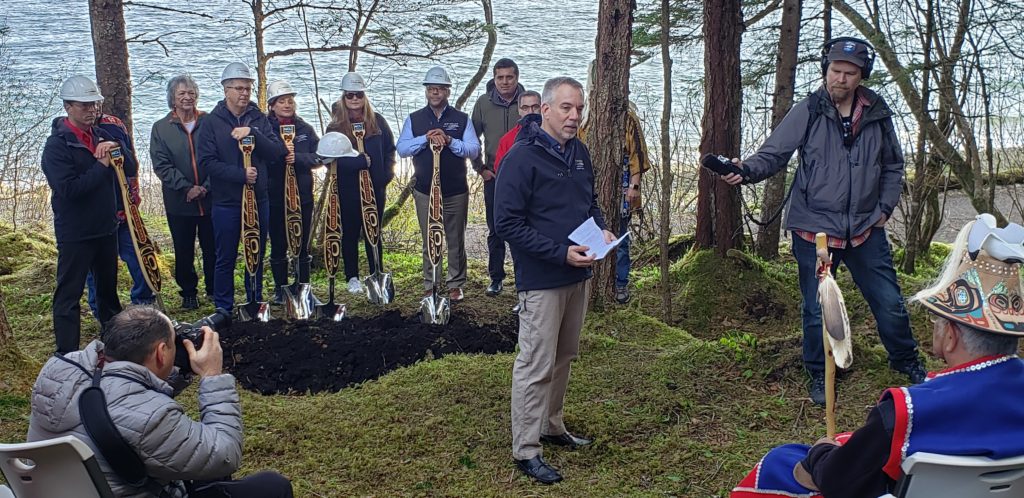 Executives from Norwegian Cruise Line traveled to Hoonah May 1 to break ground on a second cruise pier at Icy Strait Point, Huna Totem's world-class cruise ship destination.
The pier is scheduled to be completed for the summer 2020 Alaska cruise season and will be built to accommodate Norwegian Cruise Line's Breakaway Plus-class ships. The partnership will provide Norwegian's brands with preferential berthing rights in the popular port destination and allow the company to increase its calls to Icy Strait Point. Currently, Norwegian Cruise Line Holdings' Oceania Cruises' Regatta, Seven Seas Mariner, Norwegian Jewel and Norwegian Joy are scheduled to call on Icy Strait Point in the 2019 season.
In addition, the new pier will provide more cruise passengers with access to Icy Strait's newly upgraded retail, restaurant and shore excursion amenities, including the world's largest ZipRider zip line, the most accessible coastal brown bear viewing platforms in Southeast Alaska, whale watching and fishing excursions, local cultural dances accompanied by oral histories and more.
Norwegian Executive Vice President Howard Sherman said that Hoonah's beautiful setting and thriving Alaska Native culture is what convinced his corporation to invest.
"You can't buy that authenticity," Sherman told the dozens of school children, Elders and community members assembled for the groundbreaking. "You can't build it, you can't put it in a T-shirt shop, you can't put it in a jewelry store. So we are so excited and so honored to be a part of this, and I thank you."
Tlingit Elders blessed the site and retold the story of the town's founding.
The partnership will benefit the Hoonah community, home to approximately 750 people, including approximately 80 percent of Icy Strait Point's employees. By leveraging the rapidly growing demand for top-tier destinations for Alaska cruises, Icy Strait Point creates more jobs and local opportunities for Alaskans.
"The economic impact that this expansion and Norwegian's investment will have in Hoonah and the Southeast Alaska region is significant, and we're looking forward to how our Alaska Native community can be a sustainable contributor to the future of Alaska's cruise industry," said Russell Dick, Huna Totem Corporation president and chief executive officer.
"Icy Strait Point is one of the few Alaska cruise ship destinations where cruise passengers can step off the dock and into Alaska wilderness. We have the land, the capacity and the hospitality to welcome more travelers into our home in an authentic way while maintaining our heritage and the values of our Native Tlingit culture."