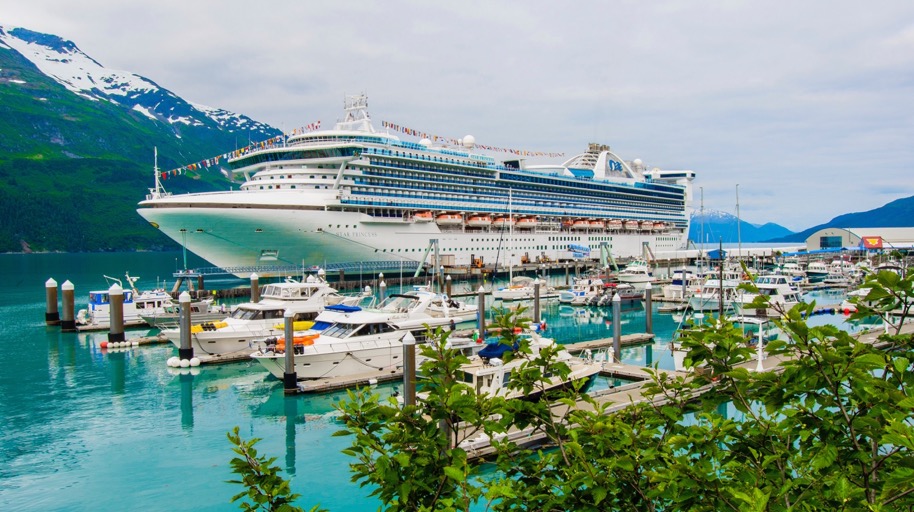 Whittier to welcome 188,000 cruise visitors this year
The Prince William Sound community of Whittier has earned an outsized place in Alaska's flourishing cruise ship industry. The tiny hamlet of approximately 250 people will welcome an estimated 188,000 cruise ship passengers this season.
Whittier is located on the west side of Prince William Sound and sits at the head of Passage Canal, about 60 miles from Alaska's largest city, Anchorage. For centuries, the area was used by Alaska Natives as a portage route to Turnagain Arm and its rich fishing grounds. During the Alaska Gold Rush, miners used the same route to reach Alaska's far away gold fields. The Whittier we know today is really a product of the United States military. During World War II, a 2.5-mile-long tunnel was punched through a mountain to connect Whittier with the Alaska Railroad so troops and wartime supplies could be offloaded at Whittier's deep water, ice-free port and transported to Alaska's military bases.
Today, Whittier and its deep-water port, large enough to allow cruise ships to turn around, proximity to the Seward Highway and Anchorage, and stunning natural beauty are the big reasons fueling the growth of the cruise ship industry.
Whittier serves primarily as a destination port for cruise ships crossing the Gulf of Alaska. Tens of thousands of passengers disembark the ships to board the Alaska Railroad or motor coaches for a ride to Princess Lodges near Talkeetna or world-famous Denali National Park. Other passengers head south in motor coaches to the Kenai Princess Lodge in Cooper Landing, perched on a high bluff overlooking the legendary Kenai River, a mecca for sport fishermen from around the globe and a chance to catch one of four species of salmon that return to the river to spawn each summer.
"We certainly see the value of cruise ships visiting Whittier each summer," said Kelly Bender, president of the Whittier Chamber of Commerce. "Princess Cruises keeps increasing the number of ships visiting Whittier each year and we really appreciate its investment in our community."
Due to growing demand for cruise vacations to Alaska, Princess Cruises added a fourth ship to its Whittier schedule. Two of those ships will visit Whittier each week. Crystal Cruises will make two stops this summer, one of them being a port of call, meaning passengers will spend the day in Whittier so they can take local excursions in or near Whittier. All totaled, five ships making a total of 38 visits will stop in Whitter between mid-May and mid-September.
In Fiscal Year 2016, Whittier received $721,325 in cruise ship passenger head tax revenue from the State of Alaska. Historically, Whittier has invested those revenues towards harbor and public safety improvements.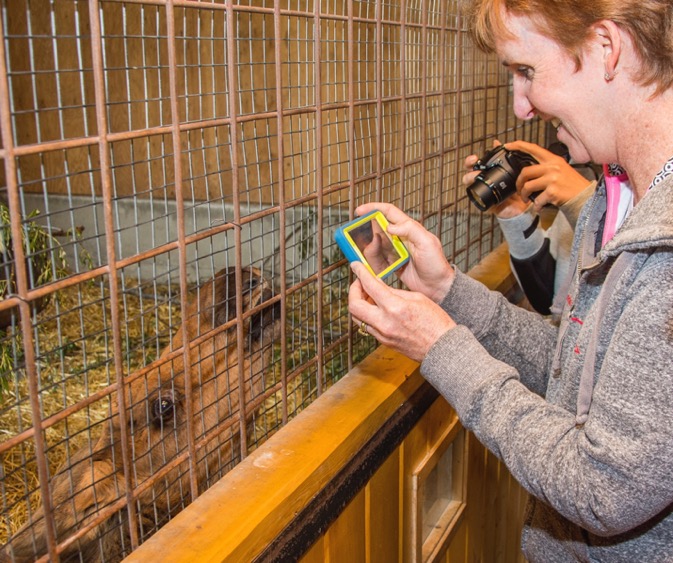 Top five excursions in and around Whittier
Whittier has a lot to offer cruise ship passengers spending the day, or part of the day in Whittier. Here are five great choices, in no particular order.
Alaska Wildlife Conservation Center – This is an excellent choice and a great opportunity to see Alaska's wildlife up close. Bears, moose, wood bison, musk ox, wolves, foxes, birds of prey, even a spiky porcupine. The AWCC is first and foremost a wildlife sanctuary. Its mission is to research advances in animal care and educate its visitors about Alaska's wildlife.
Glacier Cruises – Two companies, Phillips Cruises and Tours and Major Marine Tours, operate day cruises out of Whittier. Cruise by icebergs the size of office buildings, waterfalls, seal rookeries and so much more before reaching glaciers tens of thousands of years old.
Fishing – Reel in a barn-door-sized halibut or catch a tasty salmon on a day or half-day charter. Several charter companies are available in Whittier.
Kayaking – The protected waters of Passage Canal are perfect for sea kayaking. An experienced guide will take you past glaciers and curious sea otters. Paddling in the ocean can be strenuous, so this activity should be limited to physically fit adults and teens.
Portage Glacier and Portage Valley – Located on the other side of the tunnel leading to Whittier, Portage Glacier can be seen from the shore of the lake below the glacier. The Begich-Boggs Visitors Center, operated by the U.S. Forest Service, sits on the shore of Portage Lake and is filled with exhibits, geological facts and information about glaciers and how they form. Drive down the road to see even more glaciers literally hanging off the sides of the mountains. Some of them, like Byron Glacier, are within easy hiking distance of the road.